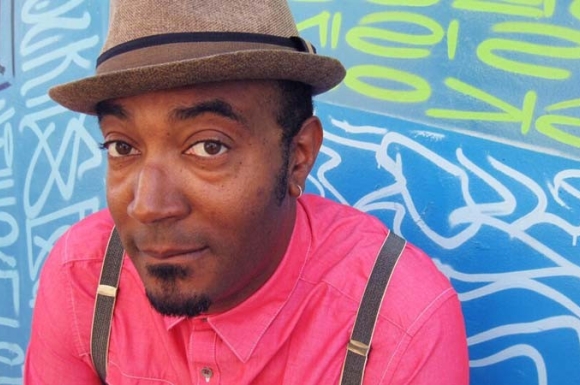 Biography
Keith Knight is the creator of the weekly comic strip The K Chronicles (1993), the weekly single panel comic (Th)ink (2003), and the daily strip The Knight Life (2008). In a style and wit reminiscent of MAD magazine, Knight typically addresses serious social and political issues in his comics while incorporating his signature humor.
In 2007 Knight won the Harvey Award for "Best Syndicated Strip or Panel" for his work on The K Chronicles. In celebration of his career in comic strips, Knight was awarded the Inkpot Award at San Diego Comic-Con in 2010. Woke, a television series partially based on Knight's life, debuted on the Hulu streaming service in 2020; the second season became available in April 2022.
Photograph courtesy Keith Knight.
Illustrations by Keith Knight
Additional Resources
Bibliography
Knight, Keith. Are We Feeling Safer Yet?: A (Th)ink Anthology. San Francisco: Keith Knight Press, 2007.
Knight, Keith. Fear of a Black Marker: Another K Chronicles Compendium. Manic D Press, 2000.
Knight, Keith. The Knight Life: Chivalry Ain't Dead. New York: Grand Central Pub, 2010.
Knight, Keith. Knight Takes Queen: The 2nd Knight Life Collection. Los Angeles: Keith Knight, 2014.
Knight, Keith. Too Small to Fail: A (Th)ink Anthology. San Francisco: Keith Knight Press, 2011.
Knight, Keith and Kyle Baker. The Complete K Chronicles. Milwaukie, OR: Dark Horse Books, 2008.
Phillips-Pendleton, Robyn and Stephanie Plunkett. Imprinted: Illustrating Race. Stockbridge, MA: Norman Rockwell Museum, 2022.