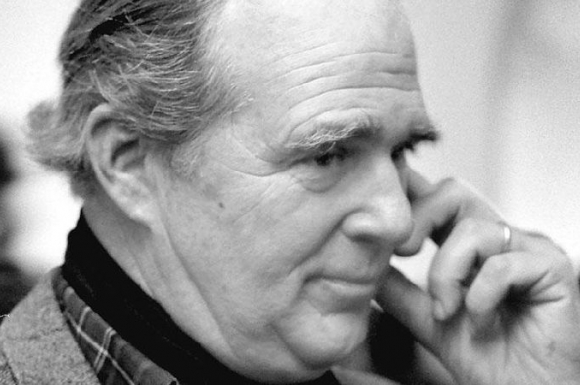 Biography
Vint (James Vinton) Lawrence (1939-2016) left an exciting and promising career as a Central Intelligence Agency (CIA) paramilitary officer and became a critically acclaimed artist and caricaturist, producing drawings of political figures and celebrities for The Washington Post, Foreign Policy, Washington Book World, Washington Monthly, and The New Republic, among others.
Born in New York City, Lawrence grew up in Englewood, New Jersey, the son of an investment counselor who served in the Office of Strategic Services, a World War II-era precursor to the CIA. He attended Phillips Exeter Academy, graduated from Princeton in 1960, and joined the CIA, serving in Laos from 1962 to 1966. Upon his return to Washington, DC in 1966, Lawrence quit the CIA, met and married Maria Satzger, and pursued a career as an artist. He sold his first caricature, of Philip Roth, to The Washington Post in 1969 for fifteen dollars. He became a regular contributor to The Washington Post, Foreign Policy, Washington Book World, and Washington Monthly, among other publications. During the Reagan, Bush, and Clinton administrations, Lawrence provided distinctive illustrations for The New Republic, where he was a contributing editor.[1]
Describing Lawrence's style during an exhibition of his illustrations in 1972, The Washington Post's art critic Paul Richard said, "He does not burlesque his subjects. He shapes their face into symbolic objects that illuminate the news."[2] The New Republic editor Tim Noah praised Lawrence's "wry sensibility" and "his talent for intricacy."[3]
Lawrence's marriage to Satzger ended in divorce. In 1986 he married Anne Garrels, a foreign correspondent with ABC News and later with National Public Radio (NPR). Her assignments took her to Moscow and Baghdad. Lawrence and their two daughters joined her in Moscow for several weeks a year during her stint there as NPR's Moscow bureau chief from 1993 to 1998. When Garrels returned from Moscow in 1998, the couple sold their Washington, DC home and moved full-time to Norfolk, Connecticut, where he had spent time during his childhood as the son of weekenders.
Retiring from editorial cartooning in the early 2000s, Lawrence focused on his painting and gardening and took an active interest in Norfolk town affairs, particularly town planning and zoning. His Norfolk studio door featured a hand-lettered sign which read: "Take courage."
Lawrence died in the spring of 2016 from complication of acute myeloid leukemia.
The Norman Rockwell Museum in Stockbridge, Massachusetts has a collection of more than 190 of Lawrence's artworks. Lawrence's CIA correspondence and hundreds of photographs and artifacts from his CIA career are housed at Concordia University's St. Paul Library Archives and Special Collections in St. Paul, Minnesota.
[1] "Vint Lawrence Dies at 76." Norfolk Now, May 2, 2016. Accessed November 28, 2019. www.nornow.org/2016/05/02/vint-lawrence-dies-76/
[2] Ibid.
[3] Smith, Harrison. "Vint Lawrence, CIA officer who became a sharp-eyed caricaturist, dies at 76." The Washington Post, April 12, 2016. Accessed November 28, 2019.
This artist's biography was written by Phyllis Geraghty, a writer with professional experience in the public relations, education, health, and non-profit sectors.
Illustrations by Vint Lawrence
Additional Resources
Bibliography
Campbell, Alexander. The Trouble with Americans. New York: Praeger Publishers, 1971.
Garrels, Anne and Vint Lawrence. Naked in Baghdad. New York: Farrar Straus Giroux, 2003.
Sullivan, Andrew and Vint Lawrence. The New Republic Guide to the Candidates, 1996. New York: New Republic Book, 1996.