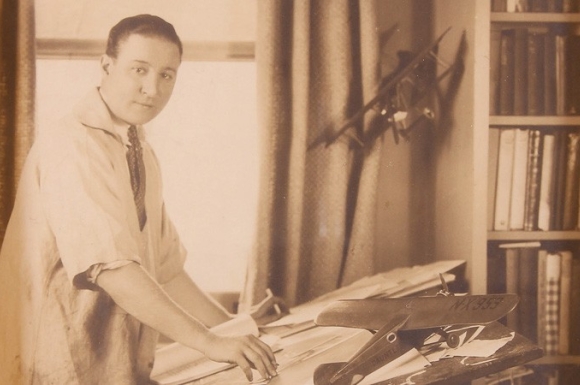 Biography
Clayton Knight (1891-1969) was an American aviator during World War I, an aviation illustrator, author, and artist. He was also instrumental in recruiting and training American fighters who were brought to Canada to train and fight for the Allies during America's pre-World War II neutrality. Knight accumulated a large archive of airplane art and specialized in the illustration of aviation books. He is also known as the husband of artist Katharine Sturges (1890-1979) and father of artist Hilary Knight (1926).
Born in Rochester, New York, Knight attended the Art Institute of Chicago from 1910 to 1917. There, he studied under famous artists Robert Henri and George Bellows. In 1917, while enjoying a flourishing career as an artist in New York, Knight volunteered for the U.S. Army Signal Corps with the intention of becoming an aviator. He achieved his goal and was one of the 150 original American pilots sent to England for advanced training during the summer of 1917. Knight flew successful missions for the Royal Flying Corps, the Royal Air Force, and served with the British Second Army in France. In the fall of 1918, Knight's plane was shot down and crashed over German territory. He survived the crash and was a prisoner of war recuperating in a German clinic.[1]
After a full recovery in a British hospital, Knight returned to New York to continue his aviation art career. He and his artist/designer wife, Katharine Sturges, collaborated as illustrators of children's books. He also wrote and illustrated books about his experiences in World War I.[2]
While living in New York's Greenwich Village in the 1940s, Knight and Canadian pilot, Billy Bishop, formed the Clayton Knight Committee which was a covert and illegal recruitment agency established to transport Americans to Canada where they trained to fight for the Allies during the period of United States neutrality prior to World War II. Headquarters were set up in the Waldorf-Astoria Hotel in New York with branch offices in cities across America. President Roosevelt secretly assisted the Committee as part of his ultimately successful effort to bring down a German spy network operating in America at the time.[3]
After the Clayton Knight Committee was terminated in May 1942, Knight became an official artist for the United States Army Air Forces in Alaska, the Aleutian Islands, and the Central Pacific. He also worked as a historian. The Air Force University Library and Historical Branch houses much of his original artwork, personal diaries, and documents from the war. On July 10, 1946 Knight was made an Officer of the Order of the British Empire (OB) for his service to England during both World Wars.
He and his wife, Katharine Sturges, had two sons, Clayton Joseph Knight (1924-1963) and Hilary Knight, the latter best known for illustrating the Eloise children's books.[4]
Footnotes:
[1] The Wikipedia entry, "Clayton Knight." Accessed on July 14, 2022. Last updated on April 6, 2022. https://en.wikipedia.org/wiki/Clayton_Knight
[2] Ibid.
[3] The Annex Galleries website, "Clayton Knight Biography." Accessed on July 14, 2022. https://www.annexgalleries.com/artists/biography/1263/Knight/Clayton
[4] Ibid.
This artist's biography was written by Phyllis Geraghty, a writer with professional experience in the public relations, education, health, and non-profit sectors.
Illustrations by Clayton Knight
Additional Resources
Bibliography
Fiegel, Sheryl and Theodore Hamady. Champions of Flight: Clayton Knight and William Heaslip – Artists Who Chronicled Aviation from the Great War to Victory in WWII. Havertown: Casemate Publishers and Book, 2019.
Knight, Clayton. The Story of Flight. Grosset & Dunlap, 1954.
Knight, Clayton. We Were There at the Normandy Invasion. Good Press, 1956.