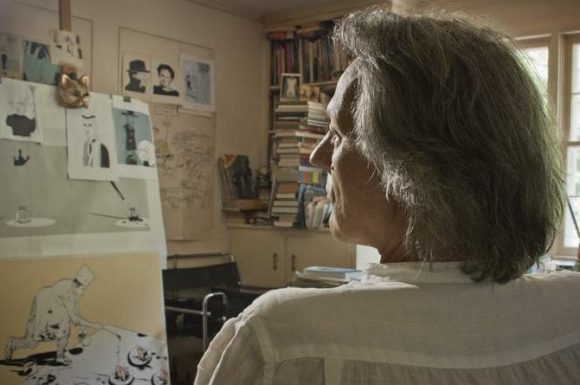 Biography
Born of modest means in the suburbs of Budapest, Hungary in 1949, Istvan Banyai revealed his artistic temperament at an early age, and his nascent gifts were developed with the help of supportive teachers as he moved through his middle and high school years. He went on to study art at Moholy-Nagy University of Art and Design in Budapest, where he was trained in architecture, graphic design, and illustrative drawing. During this period, Banyai was exposed to, and became a fan of, visual innovators like French illustrators Roland Topor and Jean-Michel Folon, American cartoonist and animator Winsor McCay, and cutting-edge Belgian illustrator Tomi Ungerer.
Shortly after graduating from Moholy-Nagy University in 1973, Banyai began working as a graphic designer, creating imagery for advertisements, record albums, and movie posters at a time when The People's Republic of Hungary was under a Communist regime. Despite the strictures of a relatively closed society, Banyai became aware of Western pop culture and artistic trends as they were filtered through friends and colleagues working abroad. Popular art forms pierced the veil of the Iron Curtain through the black market, and Banyai points to Western rock music like The Beatles' album Sgt. Pepper and the Lonely Hearts Club Band as strongly inspirational during his early professional years.
While working as a designer and absorbing as much art, pop, and high culture as he could after art school, Banyai began developing his own experimental concepts for animated films. His ideas were brought to fruition in fully realized works that played with time and space. In Gobble—Gobble, a personal work comprised of 5,000 drawings, an ever-growing man devours everything around him, from food in a diner to buildings, cities, and planets, until he ultimately explodes and the action brings him back to the diner, as an egg. Expanding universes and the idea of duality was further explored in imagery that revealed pictures within pictures, a Russian nesting doll approach to creating drawings. The theme of ever expanding universes would come to play a role in Banyai's art for many years to come.
While working in Hungary, Banyai's talents came to the attention of René Laloux, director of Time Masters, a science-fiction film that featured animated designs by Jean "Moebius" Giraud. His then-current style was evocative of Moebius' work, and Banyai was invited to work on Time Masters, an opportunity that he leaped at. He traveled to France after receiving permission from the Hungarian government, and later, after bringing his family over for a visit, he commented dryly, "We declined to return."
While in Paris with his wife Kati and son Simon, Banyai applied for French citizenship, but bureaucratic logjams stymied this process. Despite personal setbacks, he began to develop his razor sharp ability to see, and then distill, the essence of an idea in visual form. His innate ability to observe, absorb, and interpret his world through a unique and expansive lens inspired his conscious decision to move away from his roots in graphic design in order to pursue opportunities in illustration. Banyai gained exposure to an ever larger audience when his art was featured on the cover of Le Monde magazine in March 1981. That same year, his art also appeared in Pelote et Victoire, a fanciful children's book published by Achette about two mice planning a dinner party.
Artistically stimulated and happy in his professional life, Banyai was becoming increasingly frustrated with his unsuccessful attempts to become a French citizen. In 1982, the chance for representation by the innovative design and illustration firm, Push Pin Studios, inspired his decision to relocate to California. A welcoming American immigration policy gave Banyai the ways and means to make a move. America, particularly the sprawling city of Los Angeles, contrasted dramatically with the densely packed cities of Europe. Visually, California proved to be the antithesis of old-world European cities. A cacophony of new experiences in the home of Mickey Mouse, Hollywood, and the Sunset Strip, along with the challenges of adapting his artistic style for American publications, would have unnerved most young artists. But Banyai absorbed the energy of this environment and thrived, acclimating well, both artistically and personally. Working in illustration and animation as a freelance artist, he began receiving commissions for projects that showcase his talents and adaptability. Assignments as varied as the opening animation for the 1980s game show, The Love Connection, and imagery for Playboy, LA Weekly, SONY, Verve, and many regional California publications, helped to establish his brand.
At the time, New York City was the epicenter for advertising and publishing, significant industries for working illustrators. Living in California, Banyai began to feel limited in his ability to connect with the illustration community as a whole, and he longed to be closer to the action. In what seemed to be a master stroke of timing, he moved to New York in 1994 and quickly found work. His 1995 wordless picturebook Zoom! became an international success, garnering critical and popular acclaim. Zoom! took readers on a visual journey in which images unfold, one from the other, expressing his reoccurring fascination with place and perspective. Published in eighteen countries, the book was also optioned by Nickelodeon, which produced an animated short that became one of the network's early signature productions. In 1998, a reprise of this theme appeared in Re-Zoom!, another innovative wordless book in which nothing is as it seems.
Work for magazines such as Playboy, The Atlantic, The New Yorker, Vanity Fair, and Rolling Stone among others, made art editors take notice of his singular style, which was at once smart, satirical, erotic, and tender. His series of popular signature illustrations for "The Playboy Advisor," Playboy's monthly advice column, featured sensual renderings of women that conveyed power, mischief and vulnerability. His vantage point as a perennial outsider has allowed him to gently poke fun at society's conventions in humorous works that explore our national obsession with media, consumerism, celebrity, and politics, subjects that continue to appear in his art.
Banyai's career successes made it possible to realize his lifelong dream of finding a place to permanently call home. In 2004, he and his wife decided to leave New York City and set down roots in rural northwestern Connecticut, where his studio looks out on a natural, rather than an urban, landscape. Professional opportunities have continued to emerge, and while living in relative quiet, Banyai has advanced his engagement with technology. An exceptional draftsman who was classically-trained, he now utilizes the computer to bring his illustration from concept to reality. The digital process provides him the flexibility to experiment with new visual solutions in his art.
Recently, Banyai has created illustrations for O, The Oprah Magazine, a sequential narrative for The Los Angeles Times, and a series on popular culture for The New York Times. His visual campaign, Extremely Hungary, created for the Hungarian Tourist Board, highlighted noteworthy Hungarian inventions and personalities—from the legendary actress Zsa Zsa Gabor to Ernő Rubik, the creator of the Rubik's Cube.
Through his four decade career as an award-winning illustrator, Istvan Banyai has established a unique artistic identity that reflects the direct and honest vision that has guided his life's work. Though a restless spirit at heart, he finally finds himself in a seemingly strange place, at home, in the physical and artistic sense of the word.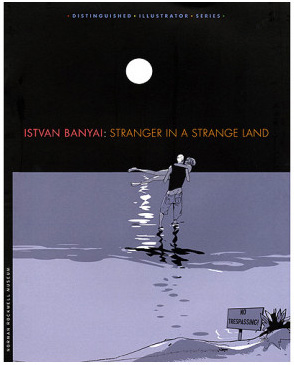 Illustrations by Istvan Banyai
Additional Resources
Bibliography
Banyai, Istvan. Minus Equals Plus. New York: Harry N. Abrams, 2001.
Banyai, Istvan. The Other Side. San Francisco, CA: Chronicle Books, 2005.
Banyai, Istvan. Re-Zoom. New York: Viking, 1998.
Banyai, Istvan. Zoom. New York: Viking, 1995.