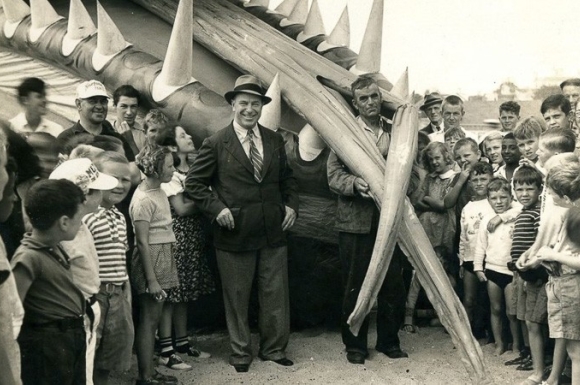 Biography
A German-American illustrator, puppeteer, author, designer, and entrepreneur, Tony Sarg is recognized as the father of modern puppetry in North America, and a pioneer in film animation. His vast knowledge of puppet technology was instrumental in his design of the inaugural Thanksgiving Day parade balloon for Macy's Department Store in 1927, and in his creation of animated figures. He designed a host of popular consumer goods from clothing items to maps to home décor; and introduced automated store window displays that were imitated nationwide.
Sarg was born in Guatemala in 1880, the son of German diplomat and coffee entrepreneur, Francis Charles Sarg, and a British mother, Mary Elizabeth Parker. His paternal grandmother, Mary Ellen Best, was an artist and watercolorist. It is believed that Sarg, at the age of six, first tinkered with a mechanical invention to remotely feed the chickens for his father.[1] As he was surrounded by puppets while growing up, and having inherited his grandmother's toy collection, Sarg developed a fascination for creating and performing with marionettes. When Sarg's family returned to Germany in 1887, Sarg entered a military academy at age 14. Three years later, he received a commission as lieutenant. However, he resigned his commission in 1905 and moved to the United Kingdom.[2]
While in Germany, Sarg met Bertha Eleanor McGowan, an American tourist from Cincinnati, Ohio. Their relationship continued while Sarg was taking up residence in the United Kingdom. The two got married in Cincinnati in 1909, and later returned to England where their daughter, Mary, was born in 1914. His German heritage, and anti-German sentiment leading up to World War I, prompted Sarg to move his family to New York City. In 1920, he became a naturalized United States citizen.[3]
Sarg as Illustrator, Puppeteer, Author, and Animator: London to New York
Employed in London as an illustrator and caricaturist, Sarg became an active part of the city's advertising community. From 1912 to 1914, he designed posters for the Electric Underground Railway Company, and he became a member of the London Sketch Club. Arriving in New York, Sarg easily fit in with fellow illustrators, writers, and performers who formed the Dutch Treat Club, which boasted among its membership such notable figures of the time as Robert Benchley, Ogden Nash, Jerome Kern, and Norman Rockwell, among others. Sarg produced illustrations for leading publications such as The New York Times, The Saturday Evening Post, Collier's, Vanity Fair, and others. His Up & Down New York, first published in 1926, offered readers an overview of the 1920s in New York City, featuring dynamic and vibrant illustrations of the city's landmarks and subway system. He also created engaging illustrated maps, notably for Nantucket and The Chicago Fair in 1933. He designed extensively for the New York World's Fair in 1939, creating the fair's official pictorial map.[4]
During the 1920s, he also distinguished himself through his knowledge of puppetry by staging performances such as The Three Wishes and The Rose and the Ring in New York City's Flatiron Building as early as 1917. In the 1920s and 1930s, during the height of his popularity, Sarg's puppetry skills were instrumental in many of his various ventures — producing animated cartoons, and mechanical figures for window displays, among others.
During this time, Sarg wrote and illustrated almost thirty picture books — some with moveable parts — which often featured animal characters to entertain and educate his young readers.[5]
Beloved as "America's Puppet Master"
From his first professional performance of The Three Wishes in 1917 to his last production of Robin Hood in 1939, Sarg and his puppetry skills delighted audiences young and old. He had his own traveling company, "Tony Sarg's Marionettes," offering productions of such treasured tales as Rip Van Winkle, Don Quixote, Alice in Wonderland, Robinson Crusoe, and The Mikado. He also offered summer courses in puppetry in 1922.
Inspired by Sarg's work, Tony Sarg Company members Bil Baird, Rufus Rose, Margo Skewis Rose, and Sue Hastings went on to establish their own puppet troupes. With the advent of television, Jim Henson took television puppetry to new dimensions with "the malleable…. faces of his Muppets, perfect for… television close-ups."[6]
Nantucket and Entrepreneurship
Sarg's connection to Nantucket began in 1920 when he began summering there with his family. He bought a home there and opened up a "Tony Sarg Shop," later moving it to a different Nantucket location and renaming it "Tony Sarg's Curiosity Shop." As he did in London and New York, Sarg became an active member of the Nantucket art community. He and his daughter Mary — an accomplished artist — painted and sold many island scenes. He was also responsible for drumming up a Nantucket sea-monster hoax in 1937 in an effort to bring more tourists to the island. Besides his retail shop in Nantucket, Sarg opened locations in New York and New Hope, Pennsylvania. These shops also became outlets for the sale of the many commercial products he designed—illustrated puzzles, puppet theaters for children, textiles, wallpapers, and furniture.[7]
In mid-February 1942, Sarg had surgery for a ruptured appendix. He died on March 7th due to complications from the surgery. He is buried at Spring Grove Cemetery in Cincinnati, Ohio.[8]
Footnotes:
[1] Timeline draft 11.18.2020 – 12.6.2020 Work in Progress
[2] Wikipedia's entry, "Tony Sarg." Accessed 11/4/2022. Last edited on June 5, 2022. https://en.wikipedia.org/wiki/Tony_Sarg
[3] Ibid.
[4] Ibid.
[5] TONY SARG: GENIUS AT PLAY, Adventures in Illustration, Puppetry, and American Popular Culture, An Exhibition Organized by Norman Rockwell Museum
[6] Ibid.
[7] Ibid.
[8] Wikipedia's entry, "Tony Sarg." Accessed 11/4/2022. Last edited on June 5, 2022. https://en.wikipedia.org/wiki/Tony_Sarg
This artist's biography was written by Phyllis Geraghty, a writer with professional experience in the public relations, education, health, and non-profit sectors.
Photo courtesy of the Nantucket Historical Association
Illustrations by Tony Sarg
Additional Resources
Bibliography
Hunt, Tamara. Tony Sarg: Puppeteer in America 1915-1942. North Vancouver: Charlemagne Press, 1988.
MacIsaac, Fred, Anne Stoddard and Tony Sarg. Marionettes and How to Make Them: A Book for Boys and Girls. London: S. Paul & Co. Ltd., 1923.
Sarg, Tony and Anne Stoddard. Tony Sarg's Alphabet. New York: Greenberg, Inc., 1926.
Sarg, Tony. Tony Sarg's Book of Animals. New York: Greenberg, 1925.
Sarg, Tony. Tony Sarg's New York. New York: Greenberg Publisher Inc., 1926.
Sarg, Tony. Tony Sarg's Play-A-Tune Song Book. New York: B.F. Jay & Co., 1942.
Smith-Masters, Margaret and Tony Sarg. The Cock, The Mouse, and the Little Red Hen. Philadelphia, Macrae Smith Co., 1945.