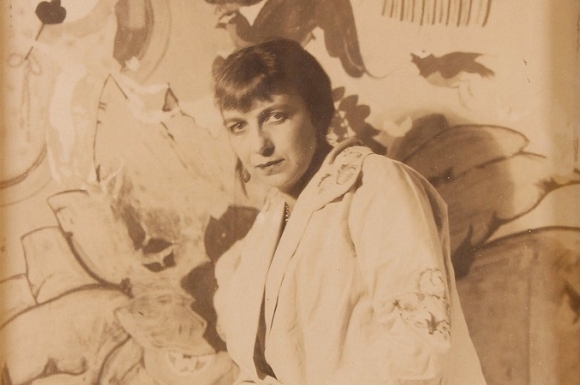 Biography
Katharine Sturges (1890-1979) was an American artist, illustrator, author, and designer of fabric, jewelry, and ceramics. Her drawings appeared in fashion magazines, children's books, advertisements, and the aviation-themed books of her artist/pilot husband, Clayton Knight. Her commissioned toile featuring scenes from the career of President Eisenhower still adorns the U.S. President's guest residence at Blair House in Washington, D.C. She is also the mother of artist Hilary Knight, who claims that his famous image of Eloise from children's books was inspired by one of his mother's paintings.
Born in Chicago, Illinois, Sturges studied at the School of The Art Institute of Chicago. Early in her career she worked for P.F. Volland Company in Chicago illustrating children's books.[1] She traveled to Japan where she studied Asian art, an influence that was apparent throughout her career. In 1925, she drew upon this travel experience to publish her Little Pictures of Japan. Sturges also showed a great talent for fabric designs and produced many drawings for the fashion industry including advertisements for the McCallum Hosiery Company. Her designs also adorned ceramics produced by the British Company, Spode, and silverware produced by Oneida Community Silver.[2] The department store, Macy's, sent her to Peru to study the culture there, after which she produced fabric and jewelry designs inspired by Peruvian artifacts.[3]
In addition to her assignments as a commercial artist and designer, Sturges often collaborated with her husband, Clayton Knight, on books about aviation. She had two sons, Clayton Joseph (1924-1963) and Hilary Knight (1926), who is the illustrator who created the image of the beloved children's book character, Eloise.
Katharine Sturges lived in Redding, Connecticut towards the end of her life. She died in New York City on January 12, 1979 after a long illness.[4]
Footnotes:
[1] The Wikipedia entry, "Katherine Sturges Dodge." Accessed on July 14, 2022. https://en.wikipedia.org/wiki/Katherine_Sturges_Dodge
[2] The askART website entry, "Artist Biography & Facts, Katharine (Knight) Sturges." Accessed on July 14, 2022. https://www.askart.com/artist/Katharine_Knight_Sturges/28855/Katharine_Knight_Sturges.aspx
[3] The Find a Grave website, "Katharine Sturges Knight." Accessed on July 14, 2022. Added July 7, 2021. https://www.findagrave.com/memorial/93214845/katharine-knight
[4] Ibid.
This artist's biography was written by Phyllis Geraghty, a writer with professional experience in the public relations, education, health, and non-profit sectors.
Illustrations by Katharine Sturges
Additional Resources
Bibliography
Jacobs-Bond, Carrie and Katharine Sturges Dodge. Tales of Little Cats. Chicago: P.F. Volland Co., 1918.
Jacobs-Bond, Carrie and Katharine Sturges Dodge. Tales of Little Dogs. Chicago: P.F. Volland Co., 1921.
Miller, Olive Beaupré and Katharine Sturges. Little Pictures of Japan. Chicago: The Bookhouse for Children, 1925.
Putnam, Nina Wilcox, Norman Jacobsen and Katharine Sturges Dodge. Winkle, Twinkle, and Lollypop. New York: Wise Book Co., 1935.
Reid, Sydney and Katharine Sturges Dodge. How Sing Found the World is Round. Chicago: P.F. Volland Co., 1921.