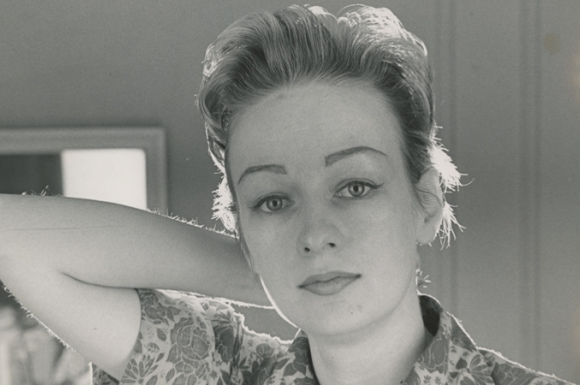 Biography
Jean Marie Ratley was born in Lumberton, North Carolina on February 7, 1931 to parents Eli Raeford Ratley and Minnie Harcum Ratley. Her brother Emmett was eighteen years her elder, and her younger sister, Joyce Carole, was born in 1934. As a child, Jean enjoyed imaginative time by herself, often avoiding household work by hiding under the dining room table or climbing up a tree. It was during childhood that Jean discovered sketching and her love of art.
The family moved to Virginia Beach in 1941. Jean attended Oceana High School where she was voted "most studious" and "best manners," and listed "designer" as her future ambition in the high school year book. She graduated in 1948, and began attending The Richmond Professional Institute in 1950 where she studied fashion design and illustration.
Through her father's cousin, whose husband was a well-connected lawyer, Jean received a job offer to work with famous American fashion designer Nettie Rosenstein in New York City. Jean's family was supportive of her following her dreams even though it took her far from home.
Designer Nettie Rosenstein (1890-1980) was renowned for her little black dresses and costume jewelry. As The New Yorker noted in a 1940 profile, "Rosenstein's clothes sell for more than most women can afford to pay, but they are so widely copied by cheaper designers that they have had a notable effect on the average woman's wardrobe." In 1953, not long after Jean began working for Rosenstein, the firm was commissioned by Neiman Marcus to design First Lady Mamie Eisenhower's dress for the 1953 Inauguration Ball. For an in-house fashion illustrator, it was intense and busy work that also meant the designer owned the rights to any image you produced.
Jean continued taking illustration classes during her early days in New York City. During a sketch class at the Art Students League in 1954, Jean made the acquaintance of her future husband, fellow illustration artist Robert Cunningham. Jean became a source of encouragement and inspiration to Bob, and even gave him the lead to his first illustration job.
Nettie Rosenstein discontinued the fashion side of her business in 1961, and Jean began working as freelance fashion illustrator.
Robert and Jean were married in New York City in 1962. They set up home in a fourth floor walk-up, apartment 4F at 177 Waverly Place in Manhattan's Greenwich Village. Living a bit of a starving artist lifestyle, they enjoyed dining with artist friends and shopping at Balducci's, the 6th Avenue World War II-era gourmet market. Jean and Bob illustrated from the adjoining work spaces in their apartment which were described as "sunny, paint perfumed studios" in a 1983 article of Sports Illustrated.
By the 1960s, fewer illustrations were finding their way into fashion magazines, with illustration now being used mainly in newspapers, advertisements, sewing patterns, and manuals. Through the 1980s, Jean continued to find work as a fashion illustrator, drawing ads for Higbees Department Store, designer Bill Blass, Butterick sewing patterns, L.S. Ayres & Company, Du Pont Fabrics, Mario Forte, and B. Altman & Co.
As Bob's illustration career progressed through the 1960s, the couple purchased a 100-year-old farmhouse in Warren, Connecticut, which they would visit on the weekends. In 1989, they moved to Connecticut full time. The property had lavish gardens, devotedly attended to by Jean. The garden was featured in tours as well as regional and national magazines which included an article in the Fall 2003 issue of Country Decorating Ideas titled "A Pretty and Practical Vegetable Patch."
As the fashion illustration industry waned, Jean switched her focus to managing Bob's career. The "mean boss" began devoting much of her time encouraging Bob to be unique in his art, and urging him to overcome his procrastination. Bob enjoyed relaxing to loud classical music, a hobby in which Jean found no enjoyment. They frequently wintered in the Bahamas with Jean's cousin, where Bob learned to love the tropical colors that would greatly influence his art. Jean was a very beloved aunt, and her nieces would visit the couple at their home in rural Connecticut for two weeks every August during childhood.
Jean is remembered as an elegant person with perfectly coiffed hair—worn collar length earlier in life, and then in a perky ponytail in her later years.
After Bob died in 2010, Jean began to suffer from dementia. She stayed at their home in Connecticut for another four years, finding pleasure in car rides around the countryside. In 2014, she entered a care home in Virginia to be closer to family members. She passed away in Virginia Beach on July 1, 2018. She was predeceased by her brother Emmett Raeford Ratley in 1971, and her sister J. Carole Ratley Miles in 1988.
Sarah Goethe-Jones, Fellow, Rockwell Center for American Visual Studies, November 2018
Illustrations by Jean Cunningham
Additional Resources
Bibliography