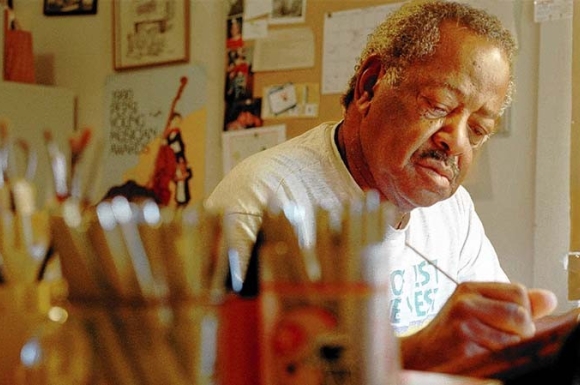 Biography
The son of a Pullman train porter, Morrie Turner loved to draw. Though he flunked his high school art class, his passion for illustration remained. He continued drawing and studying illustration through correspondence courses while in the Army during World War II, and later as a police officer in Oakland, California.
Unsuccessful in making a career for himself as an artist, he sent samples of his work to Milton Caniff, illustrator of the popular comic strips Terry and the Pirates and Steve Canyon. Caniff responded, "I do want you to know that I don't think you are wasting your time… Your feature has definite possibilities," and encouraged Turner to submit his work to newspaper editors. Emboldened, Turner pushed forward and in 1959 received an offer from the Chicago Defender to publish Dinky Fellas, a comic strip in which all the characters were Black. To broaden the strip's reach, Turner integrated other races in the strip. Rebranded Wee Pals in 1965, Turner received numerous offers for syndication, eventually becoming the first Black cartoonist with a nationally syndicated strip. In 2003 the National Cartoonists Society presented Turner with the prestigious Milton Caniff Lifetime Achievement Award.
In a 2009 interview with SFGate.com Turner commented on the longevity of Wee Pals: "All the kids were different…White, Filipino, Japanese, Chinese, Black... It was a rainbow. I didn't know that wasn't the way it was other places. Oakland was that way before the war. We were all equal. Nobody had any money." He added, "I think we should appreciate one another's cultures. Not that we should all blend necessarily, but appreciate who we are."
Photograph courtesy the Los Angeles Times.
Illustrations by Morrie Turner
Additional Resources
Bibliography
Turner, Morrie. All God's Chillun Got Soul. Valley Forge, PA: Judson Press, 1980.
Turner, Morrie. Black Sports Heroes: Past and Present. Bloomington, IN: Trafford Pub., 2011.
Turner, Morrie. Black and White Coloring Book. San Francisco: Troubador, 1969.
Turner, Morrie. Explore Black History with Wee Pals. East Orange, NJ: Just Us Books, 1998.
Turner, Morrie. Famous Black Americans. Valley Forge, PA: Judson Press, 1973.
Turner, Morrie. A Funny Thing Happened on the Way to Freedom. Clawson, MI: Ross Simmons, 1967.
Turner, Morrie. Kid Power. New York: New American Library, 1970.
Turner, Morrie. Nipper and Nipper's Secret Power. New York: New American Library, 1971.
Turner, Morrie. Super Sistahs: Featuring the Accomplishments of African-American Women. Oakland, CA: Bye Publishing, 2004.