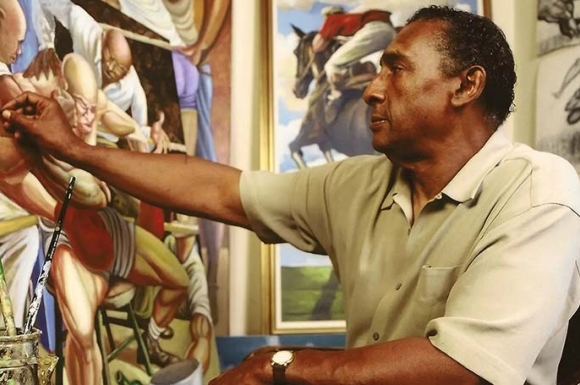 Biography
Born in Durham, North Carolina during the height of the Jim Crow era, Ernie Barnes was born to Ernest E. Barnes, Sr. and Fannie Mae Geer. Together, the family lived in a community known as "The Bottom." Geer's employer, a prominent Durham attorney and Board of Education member, encouraged Barnes to browse through his art books. From his suggestion, Barnes was able to become familiar with the works of masters like Italian sculptor and painter Michelangelo (1475-1564), Flemish painter Peter Paul Rubens (1577-1640), and French Romantic painter Eugène Delacroix (1798-1863) by the time he entered first grade. By junior high, he was able to analyze and appreciate numerous works found on museum walls.
During his childhood, Barnes was the victim of bullying. He would often seek refuge in his sketchbooks—drawing in areas on campus away from other students. A meeting with his masonry teacher and weightlifting coach, Tommy Tucker, helped fortify the self-discipline and dedication which would continue throughout his life, in art and in sports. By the time Barnes graduated from high school, he had twenty-six athletic scholarships. He then attended the North Carolina College at Durham on a full athletic scholarship where he majored in art.
Throughout his professional football career, Barnes would be signed with the Baltimore Colts, the Titans of New York, the San Diego Chargers, and the Denver Broncos. In 1959, the same year Barnes signed with the Baltimore Colts, he sold his first painting, Slow Dance, to the Celtics' shooting guard, Sam Jones. However, the painting was later lost in a fire at Jones' home.
During his time with the Chargers, Barnes met his teammate and lifelong friend, Jack Kemp. In the offseason, Barnes participated in numerous activities including working as a sports editor for The Voice, a local San Diego newspaper. In 1965, he signed with the Saskatchewan Roughriders in Canada. However, shortly after signing with the team, Barnes sustained an injury to his right foot, ending his football career. Following his final game, he went to a meeting in Houston in hopes of becoming the National Football League's official artist. Sonny Werblin, owner of the New York Jets, was impressed by Barnes' work and brought him to New York where he worked as a salaried player. Thus began his art career in the sports world.[1]
Although Barnes had been drawing and painting long before becoming a professional athlete, his work during and after his football career is what viewers have come to recognize. Barnes' time playing in the NFL helped shape his iconic style of painting with figures who are often shown with lean, sinewy muscles that help accentuate their physical movements. Barnes' work reflects both the pain and beauty of his experiences playing football, as well as the challenge of growing up as a black man in the south.[2]
Perhaps his most well known piece is The Sugar Shack, created in 1976. The image appeared on Marvin Gaye's 1976 album I Want You, and in the closing credits of the popular 1970s sitcom, Good Times. The image depicts a lively scene from a Durham dance hall, filled with elongated figures swaying to the music. Barnes' piece captures the rhythm and collective energy of a club packed with dancers and musicians as they move with the music in a euphoric state.
In 1984, Barnes became the official artist for the Summer Olympic Games in Los Angeles, painting five themed images for the International Olympic Committee. Three years later, Barnes was commissioned by the Los Angeles Lakers to paint Fastbreak, a piece that featured players Magic Johnson, Kareem Abdul-Jabbar, James Worthy, Kurt Rambis, and Michael Cooper.
In 1990, Barnes was awarded an Honorary Doctorate of Fine Arts by the North Carolina Central University, and in 2004 he was named "America's Best Painter of Sports" by American Sport Art Museum & Archives.[3] At a 2022 auction, The Sugar Shack was sold for a little over $15 million, spurring renewed interest in his work.
Footnotes:
[1] "Biography: Ernie Barnes." Ernie Barnes Official Website. Accessed July 7, 2022. https://erniebarnes.com/biography/.
[2] Little, Colony. "Ernie Barnes's Iconic Chronicle of His Southern Roots and Sports." Hyperallergic. July 4, 2019. Accessed July 7, 2022. https://hyperallergic.com/506752/ernie-barnes/.
[3] "Biography: Ernie Barnes."
Photograph © Ernie Barnes Family Trust
Illustrations by Ernie Barnes
Additional Resources
Bibliography
Barnes, Ernie. From Pads to Palette: Ernie Barnes. Waco, TX: WRS Pub, 1995.
Barnes, Ernie, E. Bennett Lipkin, and Company of Art. Ernie Barnes: A Twentieth Century Genre Painter. West Hollywood, CA: Company of Art, 1971.
Tate, Don. Pigskins to Paintbrushes: The Story of Football-Playing Artist Ernie Barnes. New York: Abrams Books for Young Readers, 2021.
Wallace, Sandra Neil. Between the Lines: How Ernie Barnes Went from the Football Field to the Art Gallery. New York: Simon & Schuster Books for Young Readers, 2018.