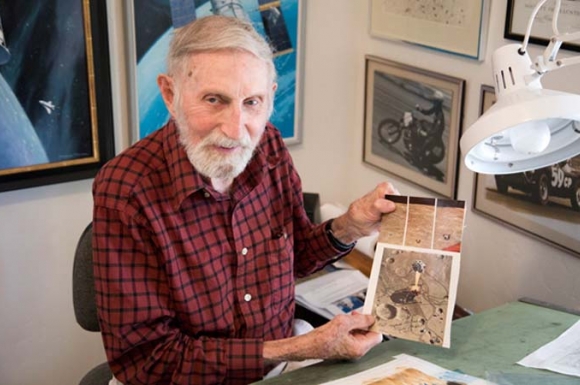 Biography
Pierre Mion (b.1931) has had a prodigious career as both an illustrator and a painter of natural history subjects. Mion states, "While my main goal is to satisfy my creative drive, I have a strong need to both inform and please other people with my art. Great joy for me is capturing the fragile beauty of our planet."
Commissioned to illustrate a great variety of subjects including historical, oceanographic, architectural, geological, mining, forestry, environmental, and transportation, Pierre Mion is best known for his paintings of outer space. His works have been exhibited worldwide and are included in the fine arts collection of NASA and the collection of the Smithsonian National Air & Space Museum. Mion's career as an illustrator began at Creative Arts Studio in Washington, D.C. where he soon became art director. Four years later he launched his freelance career. Some notable clients have been The National Geographic Society Magazine, Smithsonian Magazine, Look, Life, Popular Science, Reader's Digest, Air & Space Magazine, Newmont Gold Co., Westvaco, Stone Mountain Park, Reynolds Aluminum, IBM, Comsat General, Ocean Systems, U.S. Rubber, Rand McNally, Random House, Bantam Books, Collier Publishing, CBS, Japan Broadcasting Company, WETA Public TV, U.S. National Park Service, U.S. Postal Service, U.S. Treasury, USIA, several branches of the U.S. Armed Forces, NASA, and the Smithsonian Institution.
During his career Mion has worked with Jacques Cousteau, Gilbert Grosvenor, Edwin Link, Carl Sagan, Harold Edgerton, Wernher Von Braun, Isaac Asimov, Arthur C. Clarke, Sylvia Earle, Robert Ballard, George Bass, Michael Collins, and many other astronauts. Since 1987 Mion has designed a number of postage stamps and postcards for the U.S. Postal Service. His most recent stamp is the bicentennial stamp of Washington, D.C.
In 1967 Mion entered into the field of fine art, paralleling his career in illustration. The demanding discipline necessary to the illustrator is evident in his paintings, many of which reflect his love of nature. His subjects range from western landscapes, farm scenes, old buildings and houses, street scenes, boats, water and sea shore scenes, people, portraits, and animals. His media are oil, acrylic, gouache, watercolor, pastel, and pencil. Some private collectors include Edwin Link, Gilbert Grosvenor, Senator Barry Goldwater, Robert Ballard, Michael Collins, Hubert Schlosberg, Michael Winston, Wilbur Garrett, Richard Berlanti, and Norman Rockwell.
Mion has participated in numerous research assignments, mainly for the National Geographic Society. Such projects include working with Jacques Cousteau in Monaco, covering the great Alaskan earthquake, South African and South American gold mines, and testing deep diving submersibles in the Bahamas. During the Vietnam conflict Mion worked simultaneously for the U.S. Marine Corps and National Geographic creating combat art and story illustrations. Mion was a member of the Apollo 16 recovery team aboard the U.S.S. Ticonderoga in the South Pacific and covered many rocket launches at Cape Kennedy. Traveling across the United States on a motorcycle, Mion conducted solar architecture research for the Smithsonian Institution.
In 1966 Norman Rockwell called on Mion to assist him with a series of space paintings for Look magazine. They collaborated on a number of assignments for both Look and IBM until Rockwell's death in 1978.
In 2005 National Geographic held a retrospective exhibit of 100 illustrations at the Norman Rockwell Museum in Stockbridge, Massachusetts including five works by Pierre Mion.
Gilbert Grosvenor, President and Chairman of the Board of The National Geographic Society once noted, "As an illustrator, Pierre Mion is exceptionally gifted. His paintings of both undersea and space exploration have been widely acclaimed. His accomplishments in the fine arts have proven equally successful. His creativity, like his lifestyle is bold and exciting."
Illustrations by Pierre Mion
Additional Resources
Bibliography