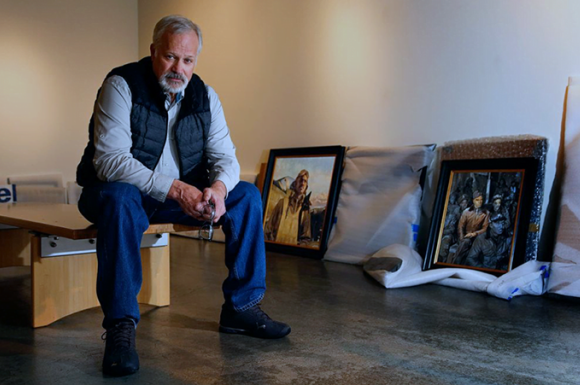 Biography
Chris Hopkins began his career as an illustrator for major motion picture companies, creating award-winning artworks for such Lucasfilm blockbusters as Indiana Jones and the Temple of Doom and Return of the Jedi, and for the music industry and other commercial clients. He has since turned his attention to painting visual narratives focusing on historical subjects that shed light on "American perseverance," including the First Nations peoples of the Pacific Northwest, the people of Japanese descent who were interned during World War II, the subject of homelessness, and the heroism of the Tuskegee Airmen.
Hopkins' extensive series of paintings focusing on the Tuskegee Airmen was launched during his service to the Northwest Chapter of the United States Air Force Art Program, and continued as a personal mission and passion. At the beginning of World War II, the armed forces were still segregated and the U.S. Army Air Corps refused to train African Americans as pilots. In response to a lawsuit, Black pilots and crews were trained at Tuskegee University in Alabama, and went on to achieve great distinction. Carefully researched over the course of many years, Hopkins' paintings of the famed airmen hang in the Pentagon, and his depictions of their missions, support crews, families, and predecessors establish a compelling visual record.
Illustrations by Chris Hopkins
Additional Resources
Bibliography
Boze, David and Chris Hopkins. Kumar Joe the Singing Crow. Tacoma, WA: Crow Tools Entertainment LLC, 2011.