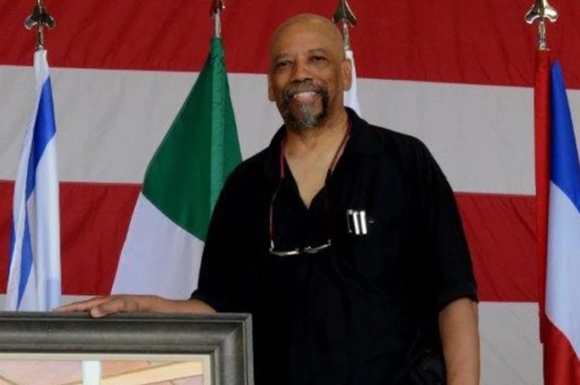 Biography
Illustrator Charles Lilly was a young artist and a recent graduate of the School of Visual Arts in New York when he painted perhaps his best-known artwork, the expressive psychological portrait of Malcolm X, the African American minister and human rights activist who became an influential figure during the civil rights movement. Originally painted for the May 1973 cover of Encore magazine, it was licensed the following year by Grove Press and later by Ballantine Books for the cover of the best-selling paperback edition of The Autobiography of Malcolm X (As Told to Alex Haley), which told the story of the activist's life and the Black Muslim movement.
In the work's central portrait, Lilly portrayed Malcolm X as "solid, very strong, and looking toward the future. Clouds within the composition reference the problems that he faced, but his mind is open," Lilly said. "The sunlight beaming over his shoulder shows that there is hope, and the red, black, and green button means that he is liberated. Seen on the lower right is Harlem, where he would preach and teach." Years later in 1992, a feature film based on the life of Malcolm X was directed and co-written by Spike Lee, and Lilly's image appeared in the film's credits.
Lilly has gone on to have a prestigious career as an award-winning illustrator and painter who has created artworks for many noted publishers, corporations, film and television companies, the U.S. Air Force, and the White House. It is his intention "that when African American children and adults…visit museums they will see realistic paintings documenting their importance in society, quiet as it has been kept."
Illustrations by Charles Lilly
Additional Resources
Bibliography
Asante, Molefi Kete. African American History: A Journey of Liberation. Maywood, NJ: Peoples Publishing Group, 1995.
Bawden, Nina and Charles Lilly. The Peppermint Pig. Philadelphia: Lippincott, 1975.
Greene, Bette and Charles Lilly. Philip Hall Likes Me, I Reckon Maybe. New York: Penguin Group, 1974.
Grimes, Nikki and Charles Lilly. Growin'. New York: Dial Press, 1977.
Nagenda, John and Charles Lilly. Mukasa. New York: MacMillan, 1973.
Peck, Robert Newton and Charles Lilly. Soup & Me. New York: Knopf, 1975.
Rappaport, Doreen and Charles Lilly. Escape from Slavery: Five Journeys to Freedom. New York: HarperCollins, 1991.
Smucker, Barbara and Charles Lilly. Runaway to Freedom: A Story of the Underground Railway. New York: Harper & Row, 1979.
X, Malcolm and Alex Haley. The Autobiography of Malcolm X (As Told to Alex Haley). New York: Ballantine Books, 1973.