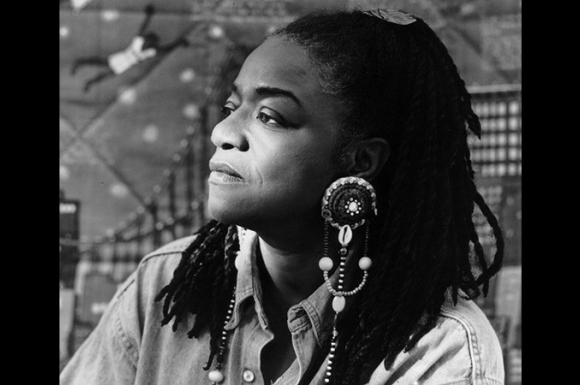 Biography
A painter, book illustrator, sculptor, performance artist, and writer, Faith Ringgold was born in Harlem in 1930 and has always found inspiration in music. "I have spent a lifetime listening to the great music of Billie Holiday, Louis Armstrong, Duke Ellington, Cab Calloway, Ella Fitzgerald, Count Basie, and others, she has said. "Many of these musicians also lived in Harlem, so, even though they were stars, they were also neighbors." The artist's first husband, Earl Wallace, was a classical pianist and composer, and gifted jazz musicians like Charlie Parker, Miles Davis, and Jackie McLean were among their friends.
Since the 1950s, Ringgold has worked across media, styles, and techniques "to tell my story, to express what I needed to express. I think about the things people did tell me instead of what I wish I'd known. My mother told me I would have to work twice as hard to get half as far." Ringgold's ongoing desire to create figurative work has at times pushed against prevailing norms in an art world, which from the mid-to-late twentieth century, favored abstraction.
Ringgold is the recipient of many honors for her extensive body of work, created over six decades.
Illustrations by Faith Ringgold
Additional Resources
Bibliography
Farrington, Lisa E. Art on Fire: The Politics of Race and Sex in the Paintings of Faith Ringgold. New York: Millennium Fine Arts Pub., 1999.
Farrington, Lisa E. Faith Ringgold. San Francisco: Pomegranate, 2004.
Holton, Curlee Raven and Faith Ringgold. Faith Ringgold: A View from the Studio. Boston: Bunker Hill Publishing, 2014.
Jackson, Sharna. Faith Ringgold: Narrating the World in Pattern and Color. New York: DK Children, 2021.
Ringgold, Faith. We Flew Over the Bridge: The Memoirs of Faith Ringgold. Boston: Little, Brown, 1995.
Sills, Leslie. Inspirations: Stories About Women Artists: Georgia O'Keeffe, Frida Kahlo, Alice Neel, Faith Ringgold. Niles, IL: Albert Whitman & Company, 1989.
Venezia, Mike. Faith Ringgold. New York: Children's Press, 2008.
Wallace, Michelle, Thom Collins, and Tracy Fitzpatrick. American People, Black Light: Faith Ringgold's Paintings of the 1960s. Purchase, NY: Neuberger Museum of Art, 2010.