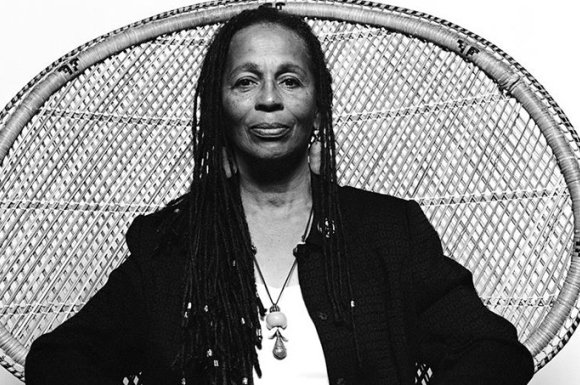 Biography
Joan Tarika Lewis, also known as Matilaba, is an American visual artist, accomplished violinist, author, and political activist. She was the first woman to join the Black Panther Party. Ms. Lewis's art includes portrait, landscape, still life, fashion illustration, greeting card design, stagecraft construction, prototype design, fictional character development, and mural design.[1] Even while honing her visual art skills and pursuing a career as a jazz violinist, Lewis maintained an active role in helping women and children in her community and those traumatized by substance abuse.
Born Joan Angela Lewis in Oakland, California, she grew up in Oakland during the height of the 1960s Civil Rights Movement. Her father, John Henry Lewis, was the first Black man to become the light heavyweight boxing champion of the world, a title he held from 1935 to 1939.[2] Her mother, née Florence Reid, was a homemaker who played piano, was a voracious reader, and enjoyed art and drawing. She inspired her children to seek a higher education.[3] Lewis attended Oakland Tech high school where she was recognized as a talented jazz violinist. During her high school years, Lewis not only started the Black Student Union, she advocated for a Black Studies course and implemented a Black History Club in her school.[4] She was also a member of the school's swim and track teams.[5]
As early as age sixteen Lewis attended forums on Black history and culture at Merritt College, the birthplace of the Black Panther Party, and the location where Party founders Huey Newton and Bobby Seale first met. While her parents encouraged Lewis to pursue a jazz career, the injustices Lewis saw surrounding her prompted her to drop out of high school, put her career on hold, and do something to help the people in her community.[6] She witnessed first-hand the Black Panther Party's efforts to advocate for her Black community suffering from issues such as unemployment, lack of affordable housing, and access to proper healthcare; Lewis was eager to do her part to alleviate the suffering.
Originally ridiculed by the Party's all-male members for wanting to join the Party, Lewis gained acceptance after she stormed into the Party's Oakland office in the spring of 1967 and demanded that she not only be made a member of the Party, but also that she be given a full initiation, including firearms handling. As a Black Panther, Lewis took on many roles, including writing editorials and drawing over forty political cartoons, many of which were published between 1967 and 1969 in The Black Panther newspaper under the name,"Matilaba."[7]
After leaving the Black Panther Party in January 1969, Lewis became a graphic artist and jazz violinist. However, she continued to engage in issues of community development. She toured internationally with saxophonist John Handy and went on to teach visual arts and jazz to inner city youth. Lewis founded the Oakland Black String Ensemble. She also uses her visual art skills as an Art Instructor/Counselor at the Healthy Babies Project.
Lewis worked on the 1995 Panther movie with Mario Van Peebles and was the author of Panther: A Pictorial History of the Black Panthers and the Story Behind the Film. In 2001 she was awarded the Congressional Recognition Award for "Performing Artist and Recognition of Community Work."[8]
Footnotes:
[1] The Black Woman Is God Newsletter. October 30, 2020. "Joan Tarika Lewis (/Artists/JTLewis)." Accessed March 5, 2022. http://www.theblackwomanisgod.com/Artists/JTLewis
[2] Cromartie, C. Vern. "Lewis, Joan Tarika." May 31, 2013. The website of the Oxford African American Studies Center. Accessed on March 5, 2022. https://oxfordaasc.com/browse;jsessionid=177EDD61A68D539FE2361CDEA564F33A
[3] The Genealogy website. "Florence Anita Lewis (Reid)." Last updated May 24, 2018. Accessed on March 10, 2022. https://www.geni.com/people/Florence-Lewis/6000000040324013933
[4] Wells, Veronica. "Untold: Women of The Black Panther Party: Joan Tarika Lewis." February 20, 2020. The Madamenoire Website. Accessed on March 5, 2022. https://madamenoire.com/1133994/women-of-the-black-panther-party-joan-tarika-lewis/
[5] Cromartie, C. Vern. "Lewis, Joan Tarika." May 31, 2013.
[6] The Wikipedia website. "Joan Tarika Lewis." Last updated on February 24,2022. Accessed on March 1, 2022. https://en.wikipedia.org/wiki/Joan_Tarika_Lewis
[7] McLendon, T. "Hidden Figures: Joan Tarika Lewis, The First Woman To Join The Black Panther Party." February 20, 2017. The Afropunk website. Accessed March 1, 2022. https://afropunk.com/2017/02/hidden-figures-joan-tarika-lewis-the-first-woman-to-join-the-black-panther-party/
[8] The Wikipedia website. "Joan Tarika Lewis."
This artist's biography was written by Phyllis Geraghty, a writer with professional experience in the public relations, education, health, and non-profit sectors.
Illustrations by Joan Tarika Lewis
Additional Resources
Bibliography
Bloom, Joshua and Waldo E. Martin. Black Against Empire: The History and Politics of the Black Panther Party. Berkeley: University of California Press, 2012.
Cromartie, J. Vern. Reappraisal of the Black Panther Party: Selected Essays for the 21st Century. Pittsburg, CA: Geechee Press, 2013.
Jones, Charles E. The Black Panther Party (Reconsidered). Baltimore, MD: Black Classic Press, 1998.
Mullin, Michaela, Noelia Cerna, Aqueila M. Lewis-Ross, Tureeda Mikell et al. Patrice Lumumba: An Anthology of Writers on Black Liberation. Oakland, CA: Nomadic Press, 2020.
Van Peebles, Mario, Ula Y. Taylor, and Joan Tarika Lewis. Panther: A Pictorial History of the Black Panthers and the Story Behind the Film. New York: Newmarket Press, 1995.