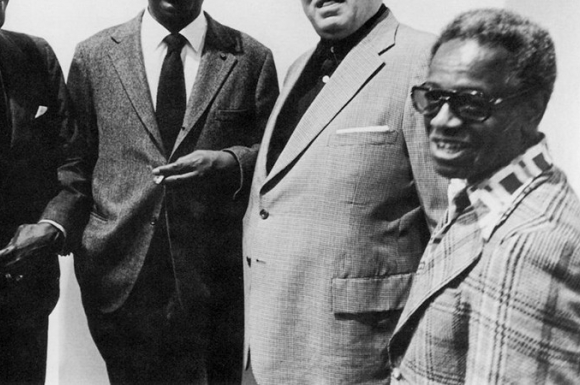 Biography
Ernest Crichlow (1914–2005) was an accomplished American narrative painter and illustrator known for his Depression-era paintings, drawings, and published illustrations that commented upon social injustice and the realities of the African American experience. Part of the Harlem Renaissance art movement, Crichlow also illustrated children's books and taught for many years at the Art Students League of New York.[1]
When he was a child, Crichlow's family immigrated to the United States from Barbados and lived in an ethnically diverse neighborhood in Brooklyn, New York. His father was a skilled mason and avid cricketer. The second of nine children, Crichlow was interested in drawing at an early age and encouraged by his parents to pursue this interest, but it wasn't until high school that he was able to fully develop his art. It was also while he was in high school that he met sculptor, Augusta Savage, whose Harlem studio became a gathering place and workshop for him and such contemporaries as Charles Aston and Norman Lewis.
Crichlow studied art at the School of Commercial Illustrating and Advertising Art in New York, but graduating during the lean Depression years made it difficult for him to obtain assignments. Employed by the Works Progress Administration's (WPA) Federal Arts Program in the 1930s, Crichlow taught art and painted murals. He noted that the WPA was "the greatest stimulant the American art scene had ever had. It meant something to be an artist then. The WPA was our haven and offered us a real entrée into what was happening. We had a lot of hope... Before that, very few of us had anything resembling a real art education." Crichlow's first exhibition was in 1938 at the Harlem Community Center. One of his best known works, the lithograph Lovers III shows a young black woman being harassed by a member of the Ku Klux Klan. Crichlow's work was exhibited in the 1939 New York World's Fair and in the Library of Congress the following year.[2]
In the 1940s, Crichlow began creating a series of picture books portraying African American children in prominent, positive roles. In these stories, black and white children are shown as equals, playing and interacting with each other and with characters from diverse backgrounds—a revolutionary approach for the time. Two is a Team by Lorraine and Jerrold Beim, published in 1945, follows the interracial friendship of two boys who learn the value of working together. The 1959 book Mary Jane, written by Dorothy Sterling and illustrated by Crichlow, was the first story for children focusing on the issue of school desegregation in the South. Young protagonists Mary Jane Douglas and Fred Jackson struggle to adjust to a newly integrated white junior high school in a book published just five years after the 1954 Brown v. Board of Education Supreme Court decision ruled against racial segregation in public schools. Told from the perspective of the African American characters, the story has a positive outcome but does not shy away from confronting the racism that the children encounter. Crichlow's illustrated cover for Laura Lewis's Enter In, also published in 1959, shows a black and a white girl skillfully playing with a single hula hoop at the height of the fad. The artist's other illustrated books include Maria (1965), We Shall Live in Peace: The Teachings of Martin Luther King, Jr. (1968), and The Magic Mirrors (1971), among others.[3]
Advocating for African American artists in 1958, Crichlow helped to found Brooklyn's Fulton Art Fair, a community festival showcasing the work of local artists that continues today under the leadership of Larry Weekes.[4] In 1969, Crichlow, along with contemporary artists Romare Bearden and Norman Lewis, founded the Cinque Gallery in Manhattan. Named after the leader of the rebellion on the slave ship, Amistad, the gallery was created to exhibit the work of both new and established African American artists, and to provide community and educational programs.
Crichlow was ninety-one years old when he died of heart failure in Brooklyn on November 10, 2005.[5]
[1] Wikipedia. Last edited on April 13, 2022. Accessed on May 3, 2022. https://en.wikipedia.org/wiki/Ernest_Crichlow
[2] Ghent, Henry. "Oral history interview with Ernest Crichlow." July 20, 1968. Archives of American Art, Smithsonian Institution. Last updated on September 18, 2002. Accessed on May 3, 2022. https://www.aaa.si.edu/collections/interviews/oral-history-interview-ernest-crichlow-11459
[3] https://en.wikipedia.org/wiki/Ernest_Crichlow
[4] Plunkett, Stephanie. "Interview with Larry Weekes," March 21, 2022. Norman Rockwell Museum.
[5] Bernstein, Adam. "Ernest Crichlow Dies," Washington Post, November 14, 2005. Accessed on May 3, 2022. https://www.washingtonpost.com/archive/local/2005/11/14/ernest-crichlow-dies/df86a1ab-44e1-47f0-a70e-76b8dac1292a/
This artist's biography was written by Phyllis Geraghty, a writer with professional experience in the public relations, education, health, and non-profit sectors.
Illustrations by Ernest Crichlow
Additional Resources
Bibliography
Beim, Lorraine and Jerrold Beim. Two is a Team. New York: Harcourt Brace Jovanovich, 1945.
Griffin, Judith Berry and Ernest Crichlow. The Magic Mirrors. New York: Coward, McCann & Geoghegan, 1971.
Locke, Alain. The Negro in Art: A Pictorial Record of the Negro Artist and of the Negro Theme in Art. Washington, DC: Associates in Negro Folk Education, 1940.
Nunn, Jessie Alford. African Folk Tales. New York: Funk & Wagnalls, 1969.
Phillips-Pendleton, Robyn and Stephanie Plunkett. Imprinted: Illustrating Race. Stockbridge, MA: Norman Rockwell Museum, 2022.
Sterling, Dorothy. Mary Jane. Garden City, NY: Doubleday, 1959.
Stull, Edith Gilbert and Ernest Crichlow. Unsung Black Americans. New York: Grosset & Dunlap, 1971.