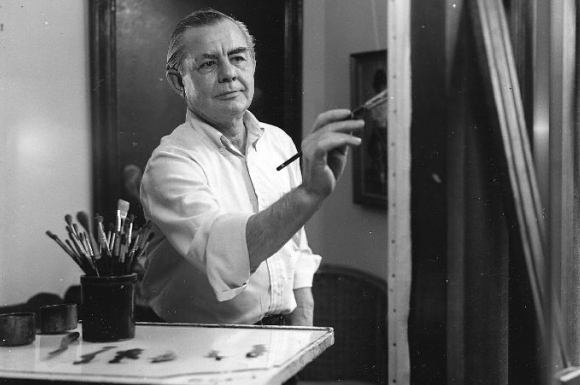 Biography
American artist Robert Childress (1915-1983) painted ads for corporate clients and illustrated covers and stories for the nation's leading magazines. He was best known, however, as a primary illustrator of the "Dick and Jane" series of basal readers published by the Scott Foresman Company and used in the United States and other English-speaking countries for nearly four decades. He also produced a series of campus scenes which he successfully marketed to members of alumni associations. His realistic and folksy style was often compared to that of Norman Rockwell, his colleague and friend.
Born in Laurens, South Carolina to a family of horse and mule traders, Childress attended Clemson Agricultural College where, as an enterprising young student, he earned money by painting and selling family coats of arms. After graduating in 1936, Childress worked for the North Carolina's Charlotte Observer; an advertising agency near Ithaca, New York; and then as an illustrator with the Grange League Federation, a farmer's cooperative. While in Ithaca, Childress was commissioned to paint a portrait of H.E. Babcock, a former chairman of the board for Cornell University. Through his connection with Babcock, he met Duncan Hines, the home food entrepreneur. His portrait of Duncan Hines appeared on every box of the company's cake mix, helping to launch his career in commercial art.
In 1958 Childress's agent met with representatives from Scott, Foresman, and Company who were looking for a new illustrator to update their "Dick and Jane" series of readers; and Childress was hired for the project. The rigorous production schedule of this assignment left little time for other work and it wasn't until well into the 1960s when another artist took over the Foresman project that Childress returned to magazine assignments and independent work. From 1968 to 1982 he created "The Great University 'Portrait' Series," in which he produced three to four campus scenes from more than thirty Ivy League and other colleges. After traveling to each campus for photographs, he returned home to paint the scenes which he then marketed to members of alumni associations.[1]
While Childress was employed by the Bob Neeley Agency in New York, his talent and ability to work in a variety of media—oils, watercolor, and pencil—kept him in popular demand. He produced ads for such prestigious clients as: Frigidaire, Mobil, Campbell Soup, Coca Cola, Wonder Bread, Carstairs Whiskey, Metropolitan Life, and Westinghouse, among others.
In 2014 the Norman Rockwell Museum in Stockbridge, Massachusetts acquired a collection of 213 original illustrations and childhood drawings by the artist.
[1] Levy, Tedd. "BACK TO THE 60s: Old Saybrook artist based Dick & Jane on local children." Shoreline Times, May 18, 2012. http://www.shorelinetimes.com/news/back-to-the-s-old-saybrook-artist-based-dick-jane/article_e522179e-ecbc-5cbc-964f-cfe23cfe3d95.html
This artist's biography was written by Phyllis Geraghty, a writer with professional experience in the public relations, education, health, and non-profit sectors.
Photograph: Robert Childress in his Madison, CT studio, ca. 1974/1975. Courtesy of Nancy Childress.
Illustrations by Robert Childress
Additional Resources
Bibliography
Childress, Robert and Nancy Childress. Sally, Dick and Jane Sketchbooks: Vol. 1. Enfield, NH: Enfield Books, 2004.
Robinson, Helen M. Friends Old and New. Chicago: Scott, Foresman, and Company, 1963.
Robinson, Helen M. Fun Wherever We Are. Chicago: Scott, Foresman, and Company, 1962.
Robinson, Helen M. Fun With Our Family. Chicago: Scott, Foresman, and Company, 1962.
Robinson, Helen M. Fun With Our Friends. Chicago: Scott, Foresman, and Company, 1962.
"Nancy Childress selling father's artwork at New Hampshire auction; 'Dick and Jane' taught generations to read." The Florida Times-Union, jacksonville.com, April 20, 2014. Accessed on November 22, 2019. www.jacksonville.com/article/20140420/NEWS/801255881
The Associated Press. "'Dick and Jane' artworks for sale." USA TODAY, April 20, 2014. Accessed on November 22, 2019. https://www.usatoday.com/story/money/business/2014/04/20/bid-dick-bid-dick-and-jane-artworks-for-sale/7943813/
The Norman Rockwell Museum website entry on Illustration Collections, Robert Childress. Accessed on November 22, 2019. https://www.nrm.org/collections-2/illustration-collections/