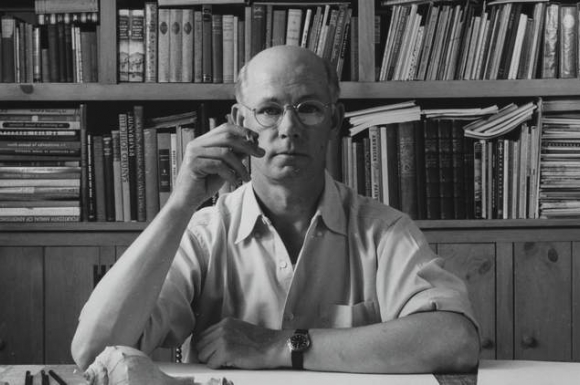 Biography
John Atherton (1900-1952) did not show an early aptitude for art; rather, his first love was nature and the activities he relished there, mainly fishing and hunting. Born in Brainerd, Minnesota in 1900, he learned to fish with his father from the age of four. Later the family moved to Spokane, Washington, and when he was old enough, Atherton worked at a variety of jobs to help support his family. One such job, in the sorting plant of a lead and silver mine, paid $4.25 a day—a good wage, though he never had time to spend his money, since he worked seven days a week.
After serving in the Navy for a year during World War I, Atherton was determined to get an education. He worked as a sign painter and played the banjo in a dance band, finally accumulating enough money to enroll in the California School of Fine Arts in San Francisco. Once there, he worked like a fiend, attending classes both during the day and at night, getting the best training available.
Though he had always intended to be a fine artist, Atherton's first jobs were for commercial art firms. In 1929, using the prize money won for a painting he entered in an art competition, Atherton and his wife moved to New York City. Though the economic situation was difficult in those years, he managed to keep going by taking commissions for magazine illustrations, and over the years he would paint more than forty covers for the Saturday Evening Post.
In 1938, an artist friend suggested that he use the same flat, decorative style as his commercial work for his gallery paintings. This was a breakthrough for Atherton; soon afterwards he held a one-man show at the Julien Levy Gallery in New York, and his paintings began to be collected by museums including the Museum of Modern Art in New York and the Metropolitan Museum of Art.
Atherton's reputation increased to a national scale when he designed the art deco stone lithograph poster for the 1939 World's Fair that strikingly depicted Earth and its atmospheric layers in the lap of Liberty.
Atherton was highly influenced by the magic realist movement that had roots in European surrealism but carried distinctly American undertones. While other magic realists focused on themes of agriculture and fertility, Atherton often opted for more industrial landscapes. He said in his statement for the seminal 1943 Museum of Modern Art exhibition, American Realists and Magic Realists. He noted, "Any painting lives or will last because it is well painted, regardless of whether it is a potato or a human body. By this I do not mean mere technical dexterity but painting which builds the spirit of the forms."
Illustrations by John Atherton
Additional Resources
Bibliography
Michael Rosenfeld Gallery. Surrealism Embodied: The Figure in American Art, 1933-1953. New York: Michael Rosenfeld Gallery, 1992.
Plunkett, Stephanie Haboush and Magdalen Livesey. Drawing Lessons from the Famous Artists School: Classic Techniques and Expert Tips from the Golden Age of Illustration. Beverly, MA: Rockport Publishers, 2017.