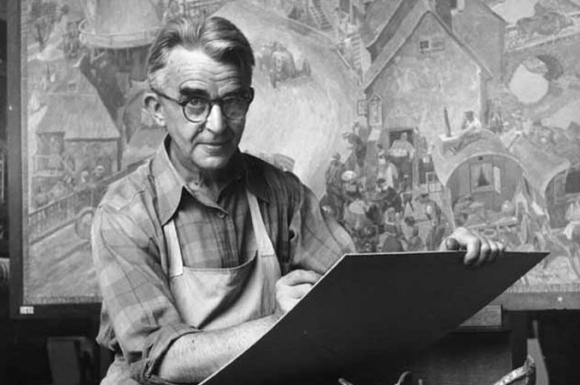 Biography
Known for his superbly detailed renderings of automobiles and trains as well as masterful landscape paintings, Peter Helck (1893-1988) brought a passionate involvement to everything he touched. As a small boy living in New York City, he loved to stand by the tracks at 96th Street and watch the steam trains rumble down into the long tunnel toward Grand Central Station. He began to draw at the age of five, and soon was producing remarkably detailed renderings of all types of locomotives. A little later, he first encountered the thrilling word of racing automobiles, and his life's pattern was set.
Helck was an indifferent student throughout elementary and high school – except for art classes, where he excelled. At 18, he got his first job, at five dollars a week, drawing advertising pictures for a department store. He went on to work at an advertising agency, a film company, and a lithography company where he painted movie posters. Eventually he began free-lancing, producing work for a number of industrial concerns.
In 1919, his interests turned to mural painting, and he sailed to England in hopes of working with his idol, the muralist Frank Branwyn. After traveling throughout Europe to immerse himself in the classic works of art, he returned to New York to continue a successful career as a mural painter.
As his work became more well known, he successfully pursued the twin paths of fine art painting and commercial work, becoming an acknowledged expert in the portrayal of industrial subjects and machinery. His favorite of all his commercial jobs was a series of paintings for Esquire on the early days of motoring. It was a labor of love, for by then his paintings were worth far more than what the magazine would have been able to pay. These drawings evoked a time when cars were not merely a means of transportation, but the gateway to glorious adventures and sport.
Helck was elected to the National Academy of Design in 1947, in recognition of his consistent and enthusiastic contributions to American art. His paintings hang in many private collections and museums, including the Metropolitan Museum of Art, the Philadelphia Museum of Art, and the Congressional Library in Washington, DC.
Illustrations by Peter Helck
Additional Resources
Bibliography
Helck, Peter. The Checkered Flag. New York: Scribner, 1961.
Helck, Peter. Great Auto Races. New York: Abrams, 1975.
Plunkett, Stephanie Haboush and Magdalen Livesey. Drawing Lessons from the Famous Artists School: Classic Techniques and Expert Tips from the Golden Age of Illustration. Beverly, MA: Rockport Publishers, 2017.