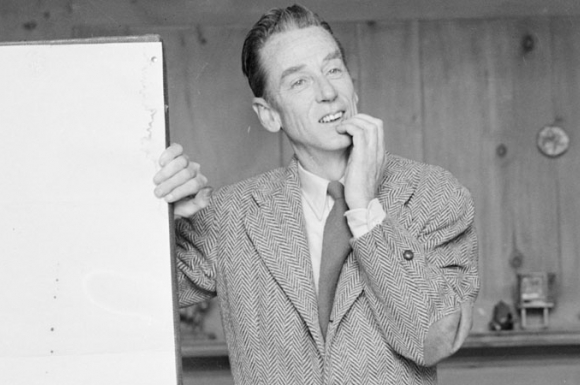 Biography
Mead Schaeffer (1898-1980) was born in Freedom Plains, NY and grew up in Springfield, Massachusetts. The son of a Presbyterian minister, he called himself a grandchild of Howard Pyle. He studied at Pratt Institute and then with Dean Cornwell, a pupil of Harvey Dunn. From this educational lineage, Schaeffer developed his talent in the finest tradition of the Brandywine School. His early illustrations of romance and adventures stories were characterized by a painterly technique with color laid down in generous and satisfying strokes.
On September 17, 1921, he married fellow student, Elizabeth Wilson Sawyers, and for fifty-three years, she assisted him as photographer, travel companion, business manager, and mentor. She was, as Schaeffer touchingly phrases it, "My workmate, playmate, my love." They had two daughters. Schaeffer's fascination with the Golden Age of Illustration fueled his boundless energy and capacious output.
For years he illustrated one or two books and approximately twenty magazine serials annually. His assignments took him all over the world to capture the correct costumes and moods for his wonderful paintings. He became one of the most sought after and highest paid illustrators in the world. He illustrated sixteen classics for Dodd, Mead Company including Moby Dick, Typee, Omoo, Les Miserables, The Cruise of the Cachalot, Tom Cringle's Log, Sans Famille, and The Count of Monte Cristo. He also illustrated for big periodicals like McCall's, Cosmopolitan, The Woman's Home Companion, American Magazine, and of course, The Saturday Evening Post.
Either by coincidence or because of his proximity to Norman Rockwell, once in Vermont, Schaeffer altered his method and choice of subject. Abandoning images of romance and exaggerated sentiment, he now turned to painting real places and people, placing them in stories he created himself. Like Rockwell, he now sought authenticity and embraced the kind of reportorial illustration assignments that were part of Ken Stuart's vision for The Saturday Evening Post. A much more imagination-based artist, Schaeffer never worked from photos, although he relied on models for painting clothes. His faces were painted from his imagination. He could use any model, and when he began using a camera, he felt his work suffered. "The camera has everything else, except what you want," Schaeffer said. An emotional painter, he needed that "…something about a real person…" to inspire him.
At the outset of World War II, Mead Schaeffer and Rockwell set out together from Arlington, Vermont, where they had their studios, to Washington, D.C. to see how they could contribute to the war effort. Rockwell brought some sketches for the proposed Four Freedoms paintings, and Schaeffer had a handful of sketches of our fighting men in action. No funds were available for the projects in Washington; on their trip home to Vermont, they made a stop in Philadelphia, Pennsylvania to see Ben Hibbs of the Post. He liked their ideas and commissioned them to develop the paintings for magazine covers. Schaeffer's research and careful attention to detail, combined with his command of the medium, instinctive sense of balance, light, texture, and above all, the tension captured in the action combined to make an outstanding Armed Forces Commemorative series.
Schaeffer then travelled all over the United States, producing more covers for the Post capturing the unique qualities of each state. By the time Schaeffer had done over 5,000 paintings, the unremitting pressures took their toll. Elizabeth cancelled all commitments and took a well-deserved rest. Schaeffer enjoyed his favorite pastime, fishing, and slowly started to paint again. Sadly in 1980, at the age of 82, Mead passed away of a heart attack while having lunch at the Society of Illustrators on East 63rd Street in New York City.
Illustrations by Mead Schaeffer
Additional Resources
Bibliography
Dumas, Alexandre and Mead Schaeffer. The Count of Monte Cristo. London, England, G.G. Harrap & Co., 1929.
Hugo, Victor and Mead Schaeffer. Les Misérables. New York: Dodd, Mead and Company, 1900.
Reed, Walt. The Illustrator in America, 1860-2000. New York: Society of Illustrators, 2001.
Russell, William Clark and Mead Schaeffer. The Wreck of the Grosvenor. New York: Dodd, Mead and Company, 1923.
Tracy, Louis and Mead Schaeffer. The Wings of Morning. New York: Edward J. Clode, 1924.
Wagner, Margaret E. Maxfield Parrish and the Illustrators of the Golden Age. San Francisco, CA: Pomegranate, 2000.