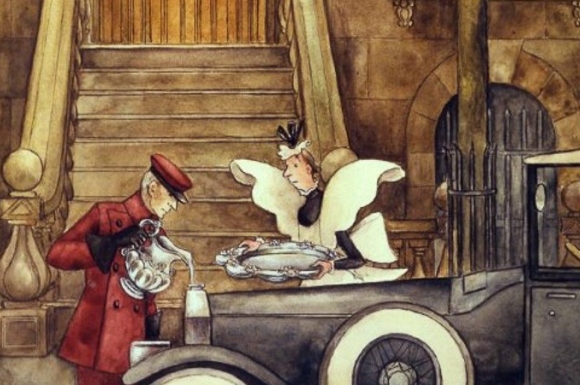 Biography
Mary Petty (1899-1976) was a talented, self-taught, and prolific illustrator of books and magazines. She is best known for a series of covers for The New Yorker featuring her invented elite Peabody family and their maid, Fay. Petty and her husband, Alan Dunn, another prolific New Yorker illustrator, led a rather reclusive life while enjoying tremendous, decades-long, success in their field.
Born in Hampton, New Jersey to Robert Davison Petty, a law professor at the New York Law School, and Florence Servis, a schoolteacher, Petty graduated in 1922 from the Horace Mann School in New York City. She had no formal art education and taught herself to draw. Around 1925 Petty met New Yorker cartoonist, Alan Dunn, and they got married in December 1927.[1] A successful, early contributor to The New Yorker, Dunn encouraged Petty and often joked about her being his student.
Petty's first cartoon for The New Yorker appeared in the October 22, 1927 issue and depicted a fashion show attended by long, thin women of leisure. This set the tone of some 271 cartoons to follow in The New Yorker, including 38 covers.[2] Her style has been described as a gentle satirizing of New York City's Victorian era society. She portrayed upper-class families in scenes of wealth and privilege. Her created scenes often featured one such fictitious family, the Peabody family, including the family's devoted and fragile maid, Fay. While satirical, Petty's illustrations were also affectionate and somewhat whimsical as demonstrated by her cartoon of a wistful maid in a starched uniform and cap, leaning out of an attic window for a quick drag on a cigarette.
While Petty and her husband had successful careers and were members of several professional organizations and clubs, they spent a great deal of time honing their art in a modest, three-room ground-floor apartment on East 88th Street in Manhattan, which served as home and studio for them both for 30 years. Not much is known about Petty's private life, even by their associates at The New Yorker. The couple had no children; and their plain living was the antithesis of the lives of Petty's cartoon people who lived in worlds of ornate bric-a-brac.
Petty's last cartoon for The New Yorker appeared on the cover of the March 19, 1966 issue, and showed Mrs. Peabody situated in an elegant room grabbing a bell pull only to have it come off in her hand.[3] On December 1, 1971, Petty was assaulted and beaten by a mugger and was found three days later on Ward's Island. She never wholly recovered and died five years later at the Pine Rest Nursing home in Paramus, New Jersey.[4]
During her lifetime Petty's work was exhibited nationally and internationally. Examples of her art are in the permanent collections of the Museum of Modern Art in New York City, the Museum of the City of New York, and the Wichita Art Museum in Wichita, Kansas. The largest single collection of her work is owned by the Syracuse University Art Collections, a gift from the artist.[5]
Footnotes:
[1] Wikipedia's entry on Mary Petty. Accessed January 10, 1921. https://en.wikipedia.org/wiki/Mary_Petty
[2] Campbell, Barbara. "Mary Petty, Cartoonist, Dead: Chided Wealthy in New Yorker." The New York Times, March 11, 1976. Accessed January 10, 2021. https://www.nytimes.com/1976/03/11/archives/mary-petty-cartoonist-dead-chided-wealthy-in-new-yorker.html
[3] Ibid.
[4] Wikipedia's entry on Mary Petty. Accessed January 10, 1921. https://en.wikipedia.org/wiki/Mary_Petty
[5] Biographical History of Alan Dunn and Mary Petty, Syracuse University, Libraries, Special Collections Research Center, Accessed January 10, 2021. https://library.syr.edu/digital/guides/d/dunn_a_petty_m.htm#d2e96
This artist's biography was written by Phyllis Geraghty, a writer with professional experience in the public relations, education, health, and non-profit sectors.
Photo © The New Yorker
Illustrations by Mary Petty
Additional Resources
Bibliography
Petty, Mary. The Life and Art of Mary Petty, Cartoonist and Illustrator: A Catalog of the Mary Petty Collection. Syracuse: The Collections, 1983.
Petty, Mary. This Petty Pace: A Book of Drawings. New York: A.A. Knopf, 1945.
Robsjohn-Gibbings, T.H. and Mary Petty. Homes of the Brave. New York: Knopf, 1954.
Syracuse University, David F. Tatham and the Joe and Emily Lowe Art Gallery (Syracuse University). Art, Artists & Museums: Sixty Humorous Drawings by Alan Dunn and Mary Petty. Syracuse, The University, 1980.