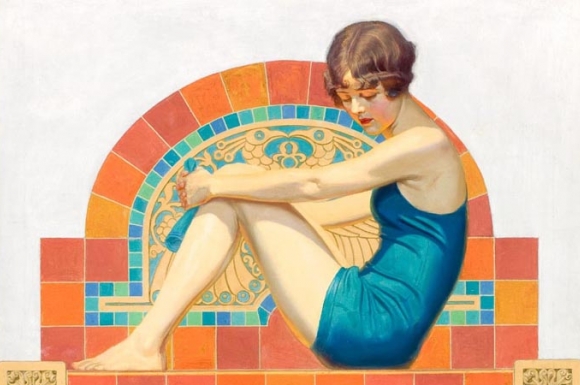 Biography
Walter Beach Humphrey trained at the Art Students League in New York City. Like many of his contemporaries from the Art Students League, Humphrey had a respected career in the painting and illustration field.
The most significant segment of Humphrey's career was defined by magazine illustrations; these are the works for which he is now mainly remembered. He was able to clear a way into the big leagues by building a rapport with a number of small circulation magazines. The majority of his covers and illustrations were produced for well-known magazines, including The Elks, Liberty, Zenith, American, and The Saturday Evening Post.
Working primarily in painting, Humphrey developed a personal style that reflected light-hearted family-friendly content. Because of this, it is no wonder that he was brought on by The Saturday Evening Post, a magazine most celebrated in the 1920s for cover images like these.
Although, he was not tied down to just magazine illustration. In fact, in looking at the corpus of Humphrey's work, it is clear that he was an artist interested in multiple artistic media. Adding to his illustrative repertoire of advertisements and magazine covers, Humphrey completed at least two murals. Patriotic Montage (1933-34) is now housed at the Smithsonian American Art Museum, while the so-called Hovey Murals (1932-34) at Dartmouth University are now kept mainly sequestered due to their dated reference to an old school drinking song that harbors racial insensitivity toward Native Americans. Later when his career slowed in pace, he even took up portraiture.
Humphrey clearly sought community and enjoyed fostering it. As soon as he could afford it, he eagerly joined the established artist colony in New Rochelle. At the time, the area was home to illustration giants including the Leyendeckers and Norman Rockwell, as well as many prolific writers, playwrights, actors, and musicians. Humphrey became active in his artistic neighborhood, serving on the New Rochelle Art Association, and later becoming a teacher at Albert Leonard High School in New Rochelle and the Phoenix Art Institute in New York City.
Unfortunately, there are no significant museum collections of Walter Beach Humphrey's work, however, many of Humphrey's Saturday Evening Post covers can be found online. There is a modest collection of prints of his work in the Norman Rockwell Museum archive.
Entry written by Bailey Pfohl, 2016 Walt Reed Distinguished Scholar Intern
Illustrations by Walter Beach Humphrey
Additional Resources
Bibliography
Reed, Walt. The Illustrator in America, 1860-2000. New York: Society of Illustrators, 2001.