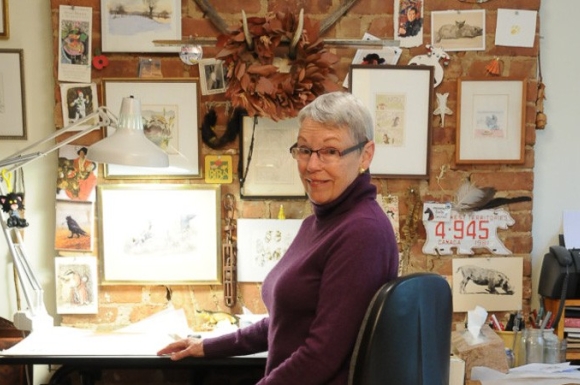 Biography
Betsy Lewin is an award-winning American illustrator, author, and teacher. She is known for her inspirational books for children—writing and illustrating her own children's publications, illustrating those of other authors; and co-authoring children's books based on exotic travel adventures with her fellow illustrator and husband, Ted Lewin.
While growing up in Clearfield, Pennsylvania, Lewin always loved to draw and can't remember wanting to be anything but an artist. Her mother was a kindergarten teacher and instilled Lewin with a love of children's books as she read to Lewin and her brother every night—Winnie the Pooh, The Adventures of Babar, and Uncle Remus, were among those read to her as a child. The illustrators A.B. Frost, Beatrix Potter, and Ernest Shepard were among Lewin's earliest heroes. Later on, when she started illustrating for children, she realized how strongly she'd been influenced by illustrators and cartoonists James Stevenson and Quentin Blake.[1] Lewin graduated from Pratt Institute in Brooklyn, New York where she studied illustration, and where she met her future husband, Ted.
Though her art is usually humorous, drawn in pen or brush with watercolor washes, Lewin also paints in a naturalistic style. After graduating from Pratt, Lewin started out designing greeting cards and then moved on to writing and illustrating stories for children's magazines. An editor at Dodd, Mead & Company suggested that she expand one of her stories into a picture book; and that is how her career in the field of children's publications was launched. Many of Lewin's books have appeared on The New York Times Best Seller list; and she has won several awards including a silver medal from the Society of Illustrators and a Caldecott Honor for Click, Clack, Moo, Cows That Type by Doreen Cronin.[2]
Both Lewin and her husband enjoyed traveling to remote and exotic places to gather inspiration for their books. Gorilla Walk was the first of their collaborations based on a trip to see mountain gorillas in Uganda. Other trips to places like India, Mongolia, Botswana, the Sahara Desert, Egypt, and Peru resulted in stories that sparked the imagination and earned the couple notoriety for their artistic abilities as well as their spirit of adventure travelling to often dangerous locales.
Lewin, who lost her husband in July 2021, continues to live in the couple's brownstone in Brooklyn, New York. Their teaching experience includes a book illustration course for Masters students at the University of Hartford. In 2015 the couple were inducted into the Society of Illustrators Hall of Fame.
Footnotes:
[1] The website of Betsy Lewin. "B. Lewin, Biography." Accessed April 16, 2020. https://www.betsylewin.com/about/biography/
[2] Ibid.
This artist's biography was written by Phyllis Geraghty, a writer with professional experience in the public relations, education, health, and non-profit sectors.
Illustrations by Betsy Lewin
Additional Resources
Bibliography
Cronin, Doreen and Betsy Lewin. Click, Clack, Moo Cows That Type. New York: Simon & Schuster Books for Young Readers, 2000.
Koller, Jackie French and Betsy Lewin. No Such Thing. Honesdale: Boyd Mills Press, 1997.
Lewin, Betsy. Good Night, Knight. New York: Holiday House, 2015.
Lewin, Ted and Betsy Lewin. Horse Song: The Naadam of Mongolia. New York: Lee & Low Books, 2008.
Lewin, Ted and Betsy Lewin. How to Babysit a Leopard: And Other True Stories from Our Travels Across Six Countries. New York: Roaring Brook Press, 2015.