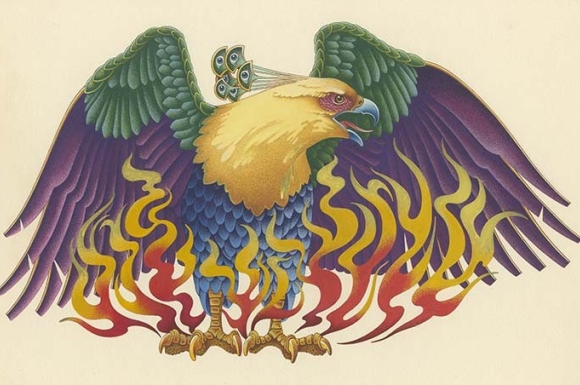 Biography
Rudolf Christian Freund (1915 – 1969) was a renowned, hard-driven American scientific illustrator and naturalist with an aptitude for relentless and detailed observation, and a passion for exactitude.[1] His quest for perfection led him to travel to the often-unexplored habitats of the creatures and botanical species he drew. Freund's art appeared in magazines, nature books and guides, as well children's books. During his career, Freund worked as a preparator for the American Museum of Natural History in New York City. He also trained many young artists for a career in the field of scientific illustration.
Growing up in Philadelphia, Pennsylvania, Freund was constantly exposed to art as his father, Rudolf Christian Freund, Sr., was a gifted engraver, medalist, and draughtsman. Young Freund was surrounded by sketches, designs, and models; and he developed a respect for detail and form. While on break from attending Philadelphia public schools, Freund spent his summers on a farm his father purchased in Collegeville, Pennsylvania. As he cultivated the land and cared for the farm animals, he was able to develop an understanding of nature by observing it up close. After high school, Freund attended classes at the Graphic Sketch Club and took an illustration course at the Philadelphia Museum College of Art.[2]
Recognizing a particularly promising student in a gifted class, his teachers recommended Freund to the Grenfell Mission of Newfoundland and Labrador which was seeking an artist for its northern mission. He spent a year there and when he returned, he sought freelance work at New York's American Museum of Natural History. Freund was hired as a staff member of the Museum's Department of Arts and Preparation. He worked there for five years while accepting freelance positions on the side.
After cultivating a substantial client base, Freund launched his freelance career; and it was at this time that his work gained a great deal of public exposure. His illustrations appeared in such popular magazines as Life, Scientific American, and Sports Illustrated. Freund illustrated twelve covers for Life magazine during the 1950s and early '60s. In the early 1950s, he traveled to Canada and Panama on assignments for Life, each resulting in full-color, double-page gatefolds of the "Arctic Tundra" and "Army Ants," respectively. Freund's work took him on expeditions to Surinam along the Brazilian border; the Galapagos Islands; and to one of the Galapagos outlying volcanic islands, Narbrough. While on these explorations, he brought back specimens and produced many sketches.[3]
Freund was meticulous about his art, going through several roughs until he was satisfied. His color drawings were all executed in aqueous mediums, watercolor, or one of the acrylic polymer pigments. The spot drawings that were to be reproduced in line cut were rendered in ink scratch-board technique. Freund earned the respect of both the art and science communities.[4] He received the Gold Medal of the 16th International Congress of Zoology in Washington, DC; and First Prize by the Arts and Crafts Association of Meriden, Connecticut; among others.
Freund died in Norristown, Pennsylvania, on October 9, 1969, at the age of fifty-four, after suffering a stroke. Many of his natural history illustrations have been donated to the Yale Peabody Museum of Natural History in New Haven, Connecticut. Others are located at the Roger Tory Peterson Natural History Institute in Jamestown, NY; the Delaware Museum of Natural History in Wilmington; the Carnegie Museum of Art in Pittsburgh, Pennsylvania; and the Norman Rockwell Museum in Stockbridge, Massachusetts.
[1] Pitz, Henry C. "Rudolf Freund, Scientific Illustrator." American Artist, May 1964.
[2] Ibid.
[3] Fact sheet: "Rudolf Christian Freund – Natural History/Scientific Illustrator." Obtained from the files of the Norman Rockwell Museum, Stockbridge, Massachusetts.
[4] Pitz, Henry C. "Rudolf Freund, Scientific Illustrator." American Artist, May 1964.
This artist's biography was written by Phyllis Geraghty, a writer with professional experience in the public relations, education, health, and non-profit sectors.
Illustrations by Rudolf Freund
Additional Resources
Bibliography
Freund, Gladys Pratt and Rudolf Freund. Wonders of the Sea. New York: Random House, 1941.
Freund, Rudolf. The Little Red Hen. New York: Simon & Schuster, 1942.
Gale, Leah and Rudolf Freund. The Animals of Farmer Jones. New York: Simon & Schuster, 1942.
Hinton, Sam and Rudolf Freund. Exploring Under the Sea. Garden City, NY: Garden City Books, 1957.
Johnstone, Kathleen Yerger, Rudolf Freund, and René Martin. Sea Treasure: A Guide to Shell Collecting. Boston: Houghton Mifflin, 1957.
Kowalski, Jesse. Enchanted: A History of Fantasy Illustration. New York: Abbeville, 2020.
Krutch, Joseph Wood and Rudolf Freund. Great American Nature Writing. New York: William Sloane, 1950.
Matschat, Cecile Hulse and Rudolf Freund. American Butterflies and Moths. New York: Random House, 1942.
Zim, Herbert S., Alexander C. Martin, and Rudolf Freund. Flowers: A Guide to Familiar American Wildflowers; 134 Paintings in Full Color. New York: Golden Press, 1950.