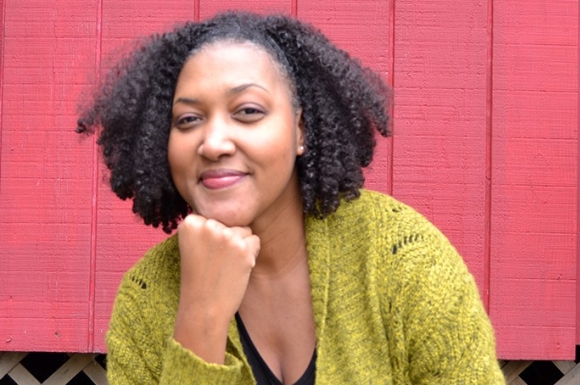 Biography
Shadra Strickland (b.1977) is an award-winning illustrator and author of children's books. Her style is a whimsical blend of reality and imagination, creating stories in which children can see themselves. Strickland teaches illustration at the Maryland Institute College of Art in Baltimore and travels the country, conducting workshops and sharing her work with children, teachers, and librarians.[1]
Born in Nashville, Tennessee, Strickland, an only child, was raised in Atlanta, Georgia. Her mother was an English teacher and her uncle was a social worker, so education and learning played important roles in her family's life. As a child, Strickland enjoyed reading and spending time with her family.[2] She also loved drawing and painting, and always wanted to be an artist.
After graduating from Syracuse University where she studied design and illustration, Strickland returned to Atlanta to teach for a few years. As a teacher reading picture books to her students in the classroom, Strickland came to realize her desire to be an illustrator. She enrolled in the School of Visual Arts' Visual Essay program and took inspiration from authors and illustrators such as Pat Cummings, Christopher Myers, Jerry Pinkney, Jon Muth, Jan Ormerod, and Kadir Nelson.[3]
Strickland's illustrations in her first picture book, Bird (written by Zetta Elliott), won her the Ezra Jack Keats Award and the 2009 Coretta Scott King/John Steptoe Award for New Talent. In her picture book, Peach, Strickland draws upon her experiences as a Southern Black woman to form a history of the South. She always tries to tap into memories and experiences from growing up in Georgia and the imagination that derived from being an avid reader.[4]
While the nature of her art is whimsical, Strickland maintains that she is interested in telling authentic stories and that "it is impossible to tell stories these days without acknowledging the fact that the world is made up of so many different types of people with so many different types of backgrounds and interests."[5]
Strickland currently lives in Baltimore, Maryland. She loves to read, write, and travel.[6]
[1] The Painted Words website. "Painted Words presents Illustrators Authors Lookbooks, Shadra Strickland." Accessed on April 14, 2022. https://www.painted-words.com/portfolio/shadra-strickland/
[2] The website of Google Books. Accessed April 20, 2022. tinyurl.com/p25p3bnd
[3] Ibid.
[4] The Framebridge blog. "Meet the Artist: Shadra Strickland." Accessed April 14, 2022. https://www.framebridge.com/blog/meet-the-artist-shadra-strickland
[5] Ibid.
[6] The website of Google Books.
This artist's biography was written by Phyllis Geraghty, a writer with professional experience in the public relations, education, health, and non-profit sectors.
Illustrations by Shadra Strickland
Additional Resources
Bibliography
Bandy, Michael S., Eric Stein, and Shadra Strickland. White Water: Inspired by a True Story. Somerville, MA: Candlewick Press, 2011.
Derby, Sally and Shadra Strickland. Sunday Shopping. New York: Lee & Low Books, 2014.
Elliott, Zetta and Shadra Strickland. Bird. New York: Lee & Low Books, 2008.
Jordan, Deloris and Shadra Strickland. A Child's First Book of Prayers. New York: Simon & Schuster Books for Young Readers, 2010.
Morrison, Toni, Slade Morrison, and Shadra Strickland. Please, Louise. New York: Simon & Schuster Books for Young Readers, 2013.
Powell, Patricia Hruby and Shadra Strickland. Loving vs. Virginia: A Documentary Novel of the Landmark Civil Rights Case. San Francisco: Chronicle Books, 2016.