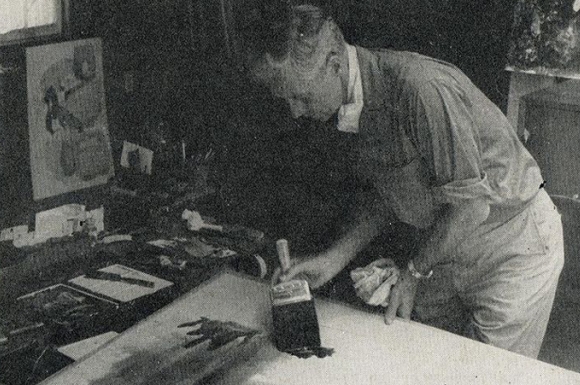 Biography
Born in the town of Dunfermline, Scotland, Alexander Sharpe Ross (1908-1990) moved with his family to Pittsburgh, Pennsylvania in 1911. After attending Carnegie Tech (now Carnegie Mellon University), Ross moved to New York and joined the Charles E. Cooper Studio, where he worked among such notable illustrators as Ward Brackett, Stevan Dohanos, J. Frederick Smith, and Jon Whitcomb.
Good Housekeeping magazine frequently featured Ross's artwork on their covers throughout the 1940s, while Ross was also completing commissions for some of the most popular magazines of the day, including The Saturday Evening Post, Cosmopolitan, McCall's, Collier's, Woman's Home Companion, and Reader's Digest.
During the decline of magazine illustration in the mid-1960s, Ross turned from romantic magazine illustrations to fine art using watercolor, for which he won many awards.
A video featuring Alex Ross painting with watercolor: https://www.youtube.com/watch?v=ykQnxdSEZ4I&feature=youtu.be
Illustrations by Alex Ross (Alexander Sharpe Ross)
Additional Resources
Bibliography
Downes, Randolph C. and Alex Ross. Council Fires on the Upper Ohio: A Narrative of Indian Affairs in the Upper Ohio Valley until 1795. Pittsburgh, PA: University of Pittsburgh Press, 1969.
O'Neill, Mary and Alex Ross. Saints Adventures in Courage. Garden City, NY: Doubleday & Company, Inc., 1963.
Reed, Walt. The Illustrator in America, 1860-2000. New York: Society of Illustrators, 2001.