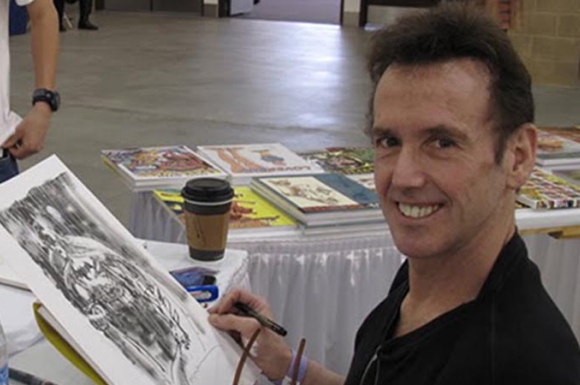 Biography
Bill Sienkiewicz (pronounced sin-KEV-itch) is an Eisner-winning, Emmy-nominated artist best known for revamping the style of comic and graphic novel illustration from 1980 onward, most notably with Marvel Comics' Elektra: Assassin and his acclaimed graphic novel Stray Toasters, earning him an international reputation and cult status across media industries.
Sienkiewicz, born Boleslav Felix Robert Sienkiewicz, is descended from the Nobel Prize-winning Polish novelist Henryk Sienkiewicz. He grew up in rural New Jersey, taught himself anatomy to better his sketches and worked construction to put himself through the Newark School of Fine and Industrial Arts in Newark, New Jersey.

He created groundbreaking movie promotional art for The Dark Knight, The Grinch, Unforgiven and the hit video game Resident Evil.

His work has graced the National Museum of Fine Arts in Rio de Janeiro, Brazil; galleries in Paris, Barcelona and Tuscany; Spain's famed La Semana Negra (The Black Week) Festival; advertising campaigns for Nike, MTV and Nissan; posters for The Green Mile and 2006 Winter Olympics; and magazines such as Entertainment Weekly and Spin.

Books include Jimi Hendrix, Voodoo Child: The Illustrated Legend of Jimi Hendrix and Santa: My Life & Times (An Illustrated Autobiography). CD covers include The Very Beast of Dio, Bruce Cockburn's The Charity Of Night, The RZA's Bobby Digital In Stereo, EPMD's Business As Usual and Sold Out: A Threevening With Kevin Smith. With longtime friend and mentor Neal Adams, Sienkiewicz also designed multimedia stage productions for Roger Waters' 2006 Dark Side of the Moon tour.

A classically-trained painter, Sienkiewicz's renderings incorporate abstract and expressionist influences and any combination of oil painting, acrylics, watercolor, mixed-media, collage and mimeograph — previously unheard of in comics. His work has garnered numerous accolades — most notably a 2004 Eisner Award for DC Comics' The Sandman: Endless Nights, and 1995 and 1996 Emmy Award nominations for production and character design on the PBS children's TV series Where In the World is Carmen Sandiego? Elektra: Assassin swept the top comic illustration awards in the U.S., Europe and Italy, respectively, with a 1987 Kirby Award, 1986 Yellow Kid Award, and 1986 Gran Guigiri Award.
Illustrations by Bill Sienkiewicz
Additional Resources
Bibliography
Groth, Gary. Bill Sienkiewicz Sketchbook. Seattle, WA: Fantagraphics, 1990.
Miller, Frank and Bill Sienkiewicz. Elektra: Assassin. New York: Marvel Comics, 2000.
Sienkiewicz, Bill. Stray Toasters. Anaheim, CA: Graphitti Designs, 2003.