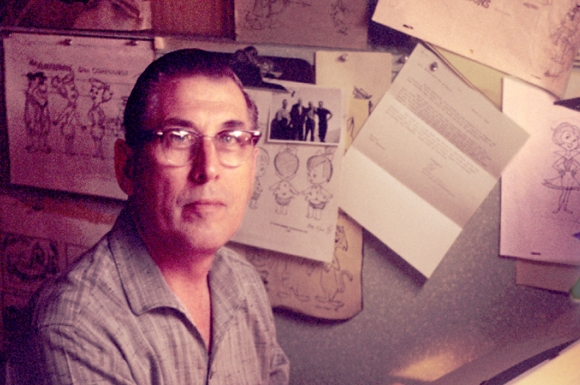 Biography
One of Hanna-Barbera's key animators, early in his career Richard Bickenbach worked for Warner Bros., animating numerous "Looney Tunes" shorts from 1939 to 1947. He joined MGM in 1947 where he animated nearly eighty Tom and Jerry shorts over the next decade. He was one of Hanna-Barbera's first employees and continued there for the next twenty years as an animator and layout artist. Bickenbach was responsible for drafting many of the studio's early model sheets and character designs; his influence on the style of Hanna-Barbera's early cartoons cannot be overstated.
Illustrations by Dick Bickenbach
Additional Resources
Bibliography
Barbera, Joseph. My Life in 'Toons: From Flatbush to Bedrock in Under a Century. Atlanta, GA: Turner Publishing, Inc., 1994.
Beck, Jerry. The Hanna-Barbera Treasury: Rare Art and Mementos from your Favorite Cartoon Classics. San Rafael, CA: Insight Editions, 2007.
Hanna, William and Tom Ito. A Cast of Friends. Dallas, TX: Taylor Publishing Company, 1986.
Kowalski, Jesse. Hanna-Barbera: The Architects of Saturday Morning. Stockbridge, MA: Norman Rockwell Museum, 2016.
Takamoto, Iwao and Michael Mallory. My Life with a Thousand Characters. Jackson, MS: University Press of Mississippi, 2009.