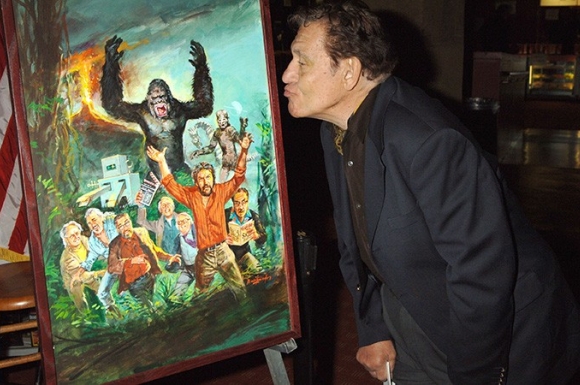 Biography
The Egpytian-born child of Greek parents, Basil Gogos immigrated to the United States at age sixteen. In the late 1950s, Gogos attended the Art Students League in New York where he studied under the respected instructor Frank J. Reilly. While in school, Gogos received his first cover work, for a Western novel. The following year, the publisher/co-founder of Famous Monsters of Filmland magazine, James Warren, asked Gogos to illustrate Vincent Price from the 1960 film House of Usher for the face of the November 1960 issue. Thus began a relationship that would last for over twenty years.
As the Universal Monster films began airing on television in the 1950s, a new generation of fans unfamiliar with the classic monsters became infatuated. Basil Gogos brought new life to the creatures from the 1930s films. During his career, Gogos painted nearly fifty covers for the magazine using striking colors in a style that both excited and frightened fans. He featured stars Lon Chaney, Bela Lugosi, Boris Karloff, and others depicted as the monsters they played on film. Gogos's paintings also drew attention to newcomers Peter Cushing and Christopher Lee in their roles as Van Helsing and Dracula.
On the occasion of Boris Karloff's death on February 2, 1969, the editor/co-founder of Famous Monsters of Filmland, Forrest J. Ackerman, insisted Basil Gogos paint the memorial cover. Gogos recalled, "We all loved Karloff. When he died, I said, 'This has got to be a special cover...'"[1]
Though he largely retired from illustration in the 1980s and 1990s, Gogos did return to the field when fans who grew up reading Famous Monsters of Filmland began requesting his services. In the late 1990s Gogos painted covers for The Misfits albums American Psycho and Famous Monsters, as well as Rob Zombie's Hellbilly Deluxe. However, the Karloff cover was the one painting Gogos treasured the most. His widow, Linda Touby, remembers, "He loved that monster. He felt it wasn't the monster's fault that nobody wanted anything to do with him, or that he was made ugly. He felt he was a victim."[2]
Footnotes:
[1] Gammill, Kerry and J. David Spurlock. Famous Monster Movie Art of Basil Gogos. Lebanon, NJ: Vanguard, 2005. 72.
[2] Sandomir, Richard. "Basil Gogos, Who Painted Monsters With Love, Dies at 88." New York Times, September 26, 2017.
Illustrations by Basil Gogos
Additional Resources
Bibliography
Ellis, Douglas, Ed Hulse, and Robert Weinberg. The Art of the Pulps: An Illustrated History. San Diego, CA: IDW, 2017.
Gammill, Kerry and J. David Spurlock. Famous Monster Movie Art of Basil Gogos. Lebanon, NJ: Vanguard, 2005.
Jones, Stephen. The Art of Horror Movies: An Illustrated History. Milwaukee, WI: Applause Theatre & Cinema Books, 2017.
———. The Art of Pulp Horror: An Illustrated History. Lanham, MD: Applause Theatre & Cinema Books, 2020.
Schelly, William. James Warren, Empire of Monsters: The Man Behind Creepy, Vampirella, and Famous Monsters. Seattle, WA: Fantagraphics Books, 2019.
Voger, Mark. Monster Mash: The Creepy, Kooky Monster Craze in America, 1957-1972. Raleigh, NC: TwoMorrows, 2015.