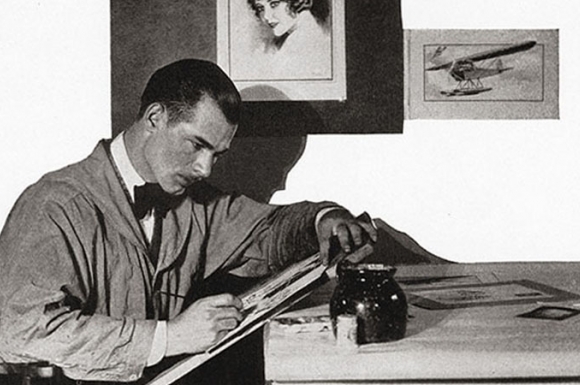 Biography
Norman Saunders (1907-1989) began his artistic career at age twenty for Fawcett Publications in Robbinsdale, Minnesota. The company is perhaps most famous for their 1939 superhero creation Captain Marvel, published under their Fawcett Comics label. Saunders moved to New York in 1934 where he continued to produce work for Fawcett Comics in publications such as Tom Mix, Hopalong Cassidy, and Strange Stories from Another World, in addition to covers of magazines for other publishers. He also studied professionally for a time at the Grand Central School of Art under legendary illustrator Harvey Dunn.
Throughout the 1930s and 1940s, Saunders' popularity skyrocketed with the publication of his imaginative and often lurid pulp magazine covers. His style adapted well to all genres of pulp magazines—Romance, Fantasy, Horror, Sex, Detective, and Western. His work adorned hundreds of covers of popular pulp magazines like All Detective, Saucy Stories, Dynamic Adventures, Black Book Detective, Saucy Movie Tales, Eerie Mysteries, Dime Detective, Black Mask, and many more.
As the popularity of pulp magazines began to wane in the post-war period of the late 1940s, Saunders turned to painting covers of paperback books, which he continued into the 1980s. Additionally, he found work painting covers of men's magazines from 1951 to 1973. A handful of the dozens of titles for which Saunders painted are Blue Book, Climax, Men Today, New Man, and Man's Story.
In 1958, he began working for The Topps Company, best known for producing trading cards of baseball players. While at Topps, Saunders created or worked on several series including the famous Mars Attacks cards in 1962, Ugly Stickers in 1965, Batman trading cards in 1966, and the popular Wacky Packages line from 1968 to 1976.
Saunders continued painting until 1984, leaving behind a rich legacy that spanned nearly six decades.
Illustrations by Norman Saunders
Additional Resources
Bibliography
Saunders, David. Norman Saunders. St. Louis, MO: The Illustrated Press, Inc., January 20, 2009.
Ellis, Douglas, Ed Hulse, Robert Weinberg. The Art of the Pulps: An Illustrated History. San Diego, CA: IDW Publishing, October 24, 2017.
Robinson, Frank M. and Lawrence Davidson. Pulp Culture: The Art of Fiction Magazines. Portland, OR: Collectors Press, September 19, 2001.