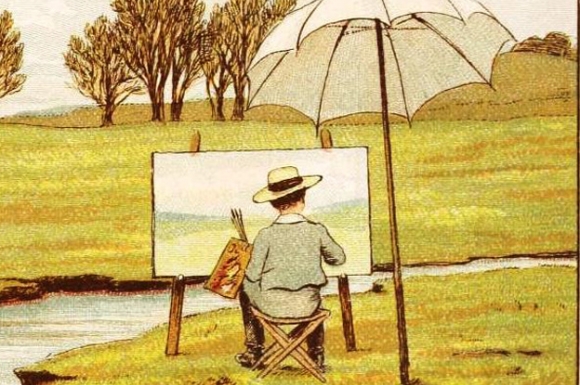 Biography
John George Sowerby was born in Gateshead, England to a prosperous family who owned Ellison Glassworks. During the 1880s, Ellison Glassworks was the largest producer of pressed glass in the world. Despite his familial connections and potential inheritance, Sowerby had little interest in glassmaking and instead decided to take up a career as a painter. Sowerby's paintings were exhibited at the Royal Academy and his illustrations for children's books were popular with the public. Sowerby did have some difficulties with his first children's book, Afternoon Tea (1880), which was disputed by Kate Greenaway to be too similar in style to her bestselling book Under the Window (1879). Sowerby had collaborated with painter H.H. Emmerson on the illustration for this title, and while there were visible similarities, Sowerby argued that both works were simply done in the same style rather than any intent to copy off of her publication. Gleeson White, editor of The Studio magazine, even states in "Children's Books and their Illustrators," that in Afternoon Tea, Sowerby "set a new fashion for 'aesthetic' little quartos costing five or six shillings each." After this book, Sowerby, along with illustrator Thomas Crane, and Crane's cousin, Elizabeth Houghton, published additional titles, At Home, Abroad, and At Home Again, which were well received and considered superior to Afternoon Tea. Roger Dixon, in his chapter on Belfast Publishing in The Oxford History of the Irish Book, even called the three books "among the loveliest books ever produced."
Sowerby and his wife Amy Margaret had three sons and three daughters. His daughters Githa and Millicent Sowerby would grow up to excel in the arts as their father did. Githa Sowerby became a noted playwright and children's book author who worked on publications with her sister, Millicent Sowerby, who worked as a children's book illustrator.
John George Sowerby died on December 14, 1914 in Herefordshire, England where he had retired.
Illustrations by John George Sowerby
Additional Resources
Bibliography
Dixon, Roger. "Belfast Publishing." In Murphy, James H. The Oxford History of the Irish Book,Volume IV: The Irish Book in English, 1800-1891. Oxford: Oxford University Press, 2011.
White, Gleeson. "Children's Books and their Illustrators." The Studio. London: Offices of "The Studio," 1897.