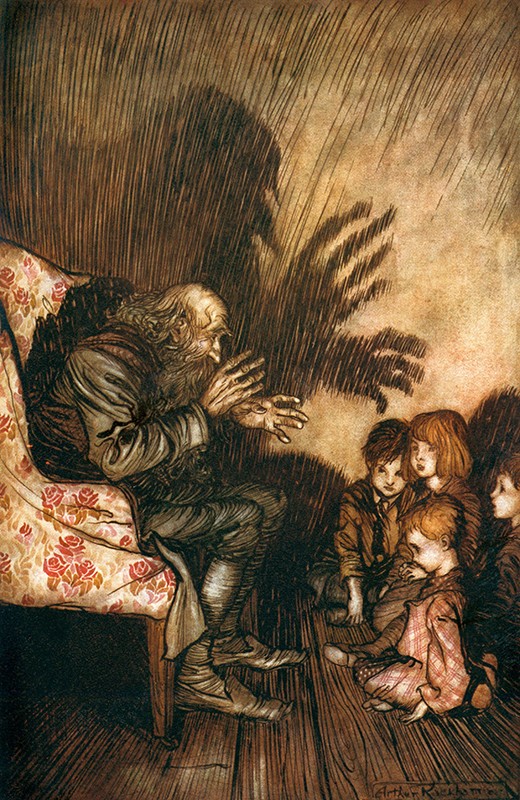 Explore the history and meaning of mythology and fairy tales in our lives, and the mythic characters and stories reflecting the inevitable conflict between the forces of good and evil – both real and imagined. On Friday, art historian and catalogue essayist Alice A. Carter will offer a keynote focusing on fantasy in the age of discovery. On Saturday, Rockwell's own flights of the fantastical will be explored by Chief Curator Stephanie Plunkett, and panelists Ruth Sanderson, Jane Yolen, Victo Ngai, Justin Gerard, and Ian McCaig will discuss their inspirations and the presence of myths and fairy tales in their art.
Zoom Webinar (online)
Friday and Saturday, October 22 and 23, 2021
Price: $20 covers both days of programs of the symposium
Keynote:
Alice A. Carter, Art Historian and Author
On the Side of the Angels: Fantasy in an Age of Discovery
In the Age of Discovery, scientists were uncovering mysterious forces, objects, and elements at work in the universe. Alice A. Carter will discuss the discoveries that inspired artist/poet William Blake and many of his successors to create images combining natural phenomena with supernatural elements. Today, we classify these works as fantasy art, but in their day, the pictures were the honest manifestation of a widespread conviction that the visible world was only part of the story.
Alice A. Carter is cofounder and Professor Emeritus of San Jose State University's award-winning Animation/Illustration program. A member of the Norman Rockwell Museum's Board of Trustees, and former President, she has served as Co-Director of Education at the Walt Disney Family Museum and as visiting faculty for the University of Hartford's low-residency MFA in Illustration. Carter's illustration clients have included LucasFilm Ltd., Rolling Stone magazine, the New York Times, and ABC Television. Her work has been exhibited in galleries and museums throughout the country, including the Norman Rockwell Museum, the Art Institute of Houston, and the New Britain Museum. Carter's publications include The Red Rose Girls: An Uncommon Story of Art and Love; The Essential Thomas Eakins; Cecilia Beaux: A Modern Painter in the Gilded Age, and The Drawings of Edwin Austin Abbey. Carter is a member of the Hall of Fame Committee at the New York Society of Illustrators and is on the advisory board of Spectrum Fantastic Art.
Opening Remarks:
Stephanie Haboush Plunkett, Deputy Director/Chief Curator
Real and Imagined: Fantastical Rockwell
An ardent and perceptive observer, Norman Rockwell was a persuasive visual commentator whose realist paintings for popular periodicals inspired belief by millions in the innate goodness of humanity and the achievability of the American dream. Rockwell also inspired our love of fantasy in ways that he may not have fully perceived; his carefully constructed artworks for The Saturday Evening Post and other magazines, and for hundreds of twentieth century advertisers and products, are the work of a consummate mythmaker who understood his audience's deepest desires and spoke to them from the heart. Art critic Peter Schjeldahl once noted that Rockwell's "precisely observed facts squared with deeply serious hopes"[i] constituted "as accurate a graph as we have of what being American—a fictive condition, always," could feel like.
Stephanie Haboush Plunkett is Deputy Director/Chief Curator of the Norman Rockwell Museum. She currently leads the Rockwell Center for American Visual Studies and has organized many illustration-based exhibitions. Her most recent publication is Drawing Lessons from the Famous Artists School: Classic Techniques and Expert Tips from the Golden Age of Illustration.
Artist Panel One:
The Fairy Tale in Fantasy Art
With:
Ruth Sanderson
Jane Yolen
Many of today's popular fairy tales first appeared in collections published by Charles Perrault, the Brothers Grimm, and Hans Christian Andersen. The stories, however, evolved from folklore passed down for many generations. Master artist Ruth Sanderson and Jane Yolen will discuss the portrayals of fairy tales in their art, and the antagonists who manifest themselves as tricksters, evil stepmothers, and other beings with fantastical abilities and powers.
Artist Bios:
Best-known for her illustrations of classic fairy tales such as The Twelve Dancing Princesses, Sleeping Beauty, Cinderella, and Goldilocks, award-winning artist and author Ruth Sanderson's paintings have been published in more than eighty books. Her beautifully rendered artworks can also be found in books such as The Enchanted Wood; The Golden Mare, The Firebird, and The Magic Ring; and The Snow Princess. She is Co-Director of the low-residency MFA in Children's Book Writing and Illustrating and Certificate in Children's Book Illustration programs at Hollins University.
Jane Yolen's books and stories and poems have won the Caldecott Medal, two Nebula Awards, two Christopher Medals, three World Fantasy Awards, three Mythopoeic Fantasy Awards, two Golden Kite Awards, the Jewish Book Award and the Massachusetts Center for the Book award. She has also won the World Fantasy Association's Lifetime Achievement Award, the Science Fiction Writers of America's Grand Master Award, and the Science Fiction Poetry Associations Grand Master Award (the three together she calls the Trifecta). Plus she has won both the Association of Jewish Libraries Award and the Catholic Libraries Medal. Also the DuGrummond Medal and the Kerlan Award, and the Ann Izard story-telling award at least three times. Six colleges and universities have given her honorary doctorates for her body of work, so–she jokingly says–you could call her Dr. Dr. Dr. Dr. Dr. Dr. Yolen though she can't set a leg. However, she does warn about winning too many awards as one of them set her good coat on fire. If you meet her, you can ask about that!
Artist Panel Two:
The Making of Myths
With:
Victo Ngai
Justin Gerard
Ian McCaig
Greco-Roman sculptures of mythological figures carved thousands of years ago express the power of the gods and of the myths themselves. These ancient tales have been favorite subjects of poets, storytellers, sculptors, painters, and illustrators throughout history and into modern times. Our panelists will discuss their interest in mythology and approaches to portraying capricious gods and other figures who entice humans to perform impossible tasks.
Artist Bios:
Born in Hong Kong, Victo Ngai studied at the Rhode Island School of Design. In her career, she has won numerous awards and accolades from her peers for her bold color palette and inventive designs. In 2018, Ngai won the Spectrum Gold Award for book illustration, and was awarded the advertising gold medal from the Society of Illustrators the following year. Ngai has illustrated advertising campaigns for McDonald's, Apple, Johnnie Walker, American Express, and numerous other companies.
Justin Gerard's fantasy paintings exhibit a bold color palette, inventive composition, and terrific wit. Reminiscent of the fantastic artworks created by Arthur Rackham, Palmer Cox, and Maxfield Parrish, Gerard's monsters, demons, and trolls never seem all that evil. The creatures in Gerard's world exhibit a light-hearted spirit within a thoughtful world of beauty and wonder built around them. His clients have included The Jim Henson Company, Warner Bros., HarperCollins, and Random House, and his work has been featured in Spectrum: The Best in Contemporary Fantastic Art, and the Society of Illustrators Annual of American Illustration.
Over the past thirty years, Iain McCaig has designed concept art, storyboard art, and designs for several blockbuster movies. He began his career in cinema creating artwork for Terminator 2: Judgment Day (1991), Hook (1991), and Interview with the Vampire (1994). In 1999, McCaig was hired as a principal designer for the three Star Wars prequel films, as well as the more recent Star Wars movies. McCaig has also created concept art and design for The Spiderwick Chronicles (2008), John Carter (2012), The Avengers (2012), Guardians of the Galaxy (2014), Avengers: Infinity War (2018), among others.