This blog can also be accessed on NRM.org
Written By: Barbara Rundback
During an era when women were expected to get married, raise children, and manage a household, Elizabeth Shippen Green (1871-1954), Jessie Wilcox Smith (1863-1935), and Violet Oakley (1874-1961) chose to pursue careers in the arts. In 1897, these three women enrolled in famed illustrator Howard Pyle's (1853-1911) class at the School of Illustration at the Drexel Institute, Philadelphia where they formed a bond. The women rook residence at the Red Rose Inn; hence their moniker. This communal living arrangement provided the professional support needed for success in a male dominated field. Through the generosity of Robert T. Horvath, the Museum is fortunate to have an example of each woman's work.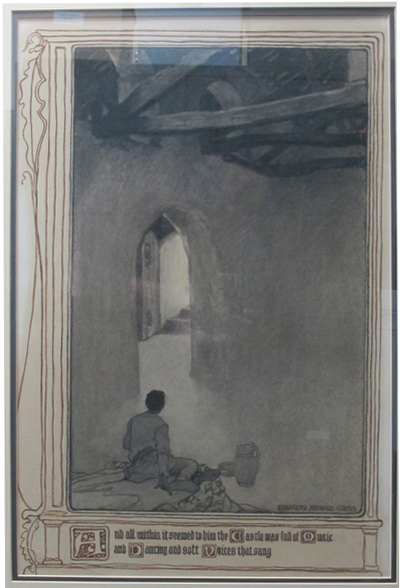 Elizabeth Shippen Green (1871-1954)
And all within it seemed to him the Castle was full of Music and Dancing and soft Voices that sang, n.d.
Charcoal and pencil on paper, 32 ¾ x 24 ½ in (framed)
Norman Rockwell Museum Collection, Gift of Robert T. Horvath, NRM.2019.19
Elizabeth Shippen Green was known for her various historical period and romantic illustrations in popular magazines as well as children's and classic books. Her reputation led to an exclusive contract with Harper's Weekly in 1901. Working mainly in charcoal, Green used the medium to boldly outline and delicately shade her drawings, which produced grisaille halftones that reproduced remarkably in publications. Outlined by an art nouveau border, Green's And all within it seemed to him the Castle was full of Music and Dancing and soft Voices that sang demonstrated her technique. The artist's ability to create a strong impression of physical distance between the figure in the shadows and the merriment coming from the light gives the image drama. In addition, the central character is dwarfed with his placement in the lower left corner amidst the open space and high ceilings framed by dark beams. The viewer wonders what this young man is missing upstairs.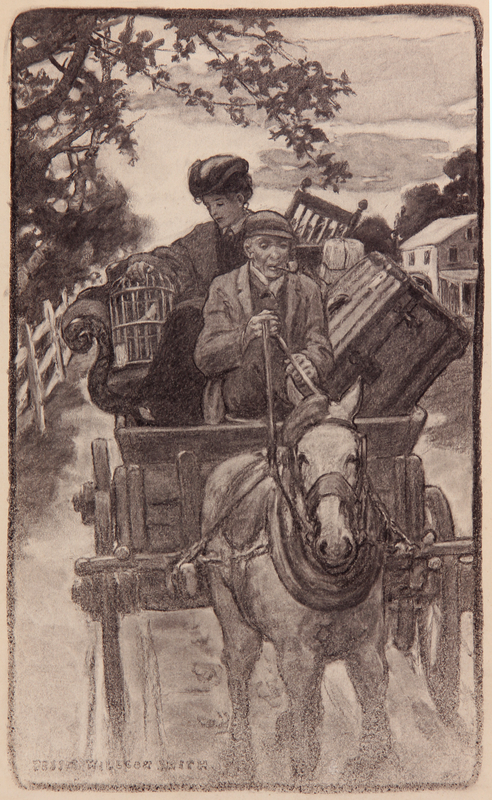 Jessie Willcox Smith (1863-1935)
"You should have seen my triumphal entry into the city, sitting among my goods and chattels.", 1922
Charcoal and graphite on paper, 29 x 20 ½ in. (framed)
Illustration for "An Old-Fashioned Girl" by Louisa May Alcott, Little, Brown & Company, 1922, p. 371
Norman Rockwell Museum Collection, Gift of Robert T. Horvath, NRM.2018.18
Like many women illustrators of the time, Jessie Willcox Smith specialized in depicting children and domestic life. Her artwork has graced the covers of Good Housekeeping, and was featured in magazine stories, advertisements, and children's books. Her acclaimed illustrations for Little Women led to the artist being commissioned for another Louisa May Alcott book, An Old-Fashioned Girl. The charcoal drawing, "You should have seen my triumphal entry into the city, sitting among my goods and chattels.", renders the heroine Polly Milton returning to the city. Utilizing the author's descriptive text, Smith filled the picture with Polly's "home comforts" packed onto Mr. Brown's cart. The success of this illustration may be due to a lesson she learned from Howard Pyle. Smith stated, There was your story, and you knew your characters, and you imagined what they were doing, and in consequence you were bound to get the right composition because you lived these things.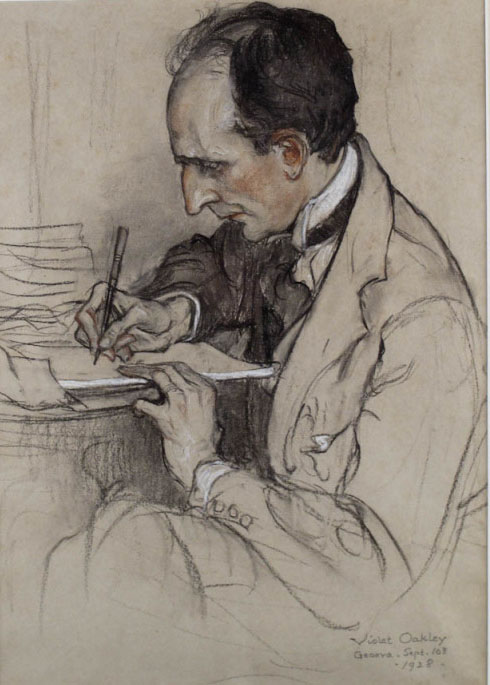 Violet Oakley (1874-1961)
Portrait of a League of Nations delegate, September 10, 1928
Charcoal and pastel on paper, 25 ½ x 20 in (framed)
Norman Rockwell Museum Collection, Gift of Robert T. Horvath, NRM.2013.02.1
Born into a family of artists, Violet Oakley started sketching at a young age. She gained early success for earning commissions for magazine illustrations, but is better known for her forty-three murals adorning the Pennsylvania State Capitol. During her research for the murals, she became interested in William Penn and the Quakers' ideals, in particular pacifism. After World War I, Oakley left for Geneva to support the League of Nations and its aim for global peace. Between 1927 and 1929, she did a series of portraits of the delegates and sent them to a Philadelphia newspaper. This masterful rendering captures a delegate absorbed in his work.
The Red Rose Girls: A View Through the Camera
Written By: Venus Van Ness
Elizabeth Shippen Green, Violet Oakley, and Jessie Willcox Smith, a talented trio of women artists, met in the Drexel Institute drawing class of renowned illustrator Howard Pyle. During their studies, the three shared studio space together in Philadelphia. When their careers began to flourish, the trio rented the Red Rose Inn, an idyllic 200-acre suburban estate on Philadelphia's Main Line. From then on, Howard Pyle referred to them with the moniker, the "Red Rose Girls."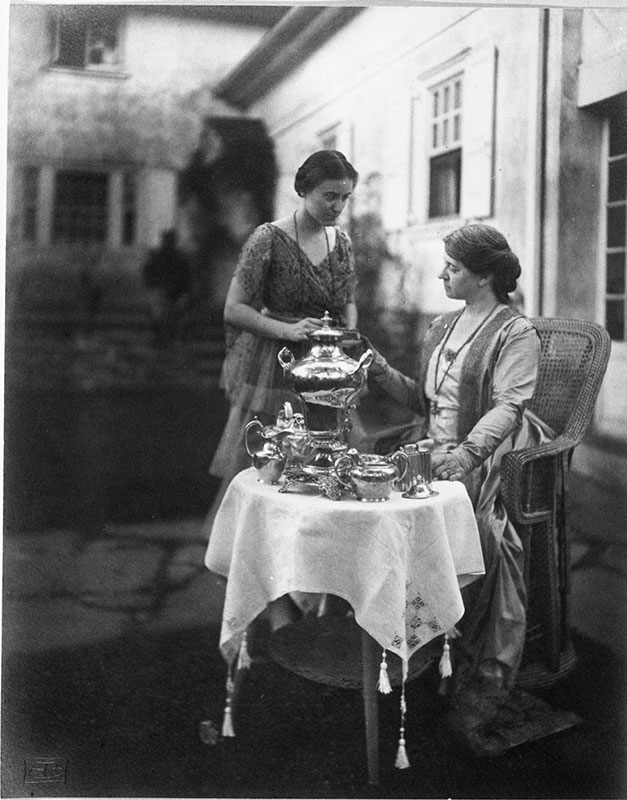 The archives is fortunate to have a collection of nearly 400 photographic negatives used by Green, Oakley, and Smith, which document their respective subjects, but also show life in the early 1900's as it was in the greater Philadelphia area. Donated to the archives by Alice Carter, author of the book The Red Rose Girls: An Uncommon Story of Art and Love, it was Alice's mother Jane Eisenstat, who rescued the negatives from the trash bin at Violet Oakley's studio during a visit in the 1960's.
Although not known for certain, it is likely that the negatives originally belonged to Elizabeth Shippen Green. Her style of composition differed from most of her artist contemporaries due in part to the highly organized system of reference materials that she used for her paintings. She served as the "librarian" for the Red Rose Girls, and kept a large cabinet filled with neatly organized portfolios of photographs and clippings that could be used to create various types of images. Although most other illustrators worked directly from costumed models at that time, Green found this practice to be both time consuming and expensive. Because she had learned about photography while studying at the Pennsylvania Academy of Fine Arts, she found it more efficient and economical to photograph friends or hired models. While some of the photographs Green took involved figures in simple poses and settings that could be used for general reference, most were composed for a specific illustration. Additionally, the trio frequently used themselves as models and can be seen in several of the images in the collection of negatives.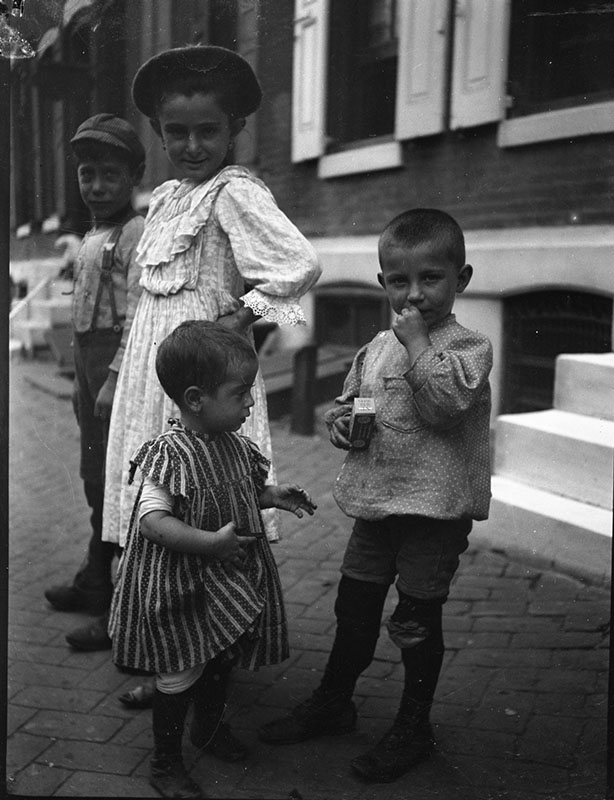 The negatives vary widely in their subject matter, ranging from elaborately costumed men and women to images of a local barbershop. Children were a hugely popular subject of all three women, and are featured prominently within the collection. There are immigrant children playing in the streets, as well as finely dressed and perfectly posed children playing the piano and reading books.
Overall, the collection gives its viewers a fantastic glimpse into both the artistic lives of the Red Rose girls, as well as the people living and working in Philadelphia during an important time in history, over 100 years ago.