Read the latest news about us!
January 21, 2016 - Issue #538 hits stores on February 17.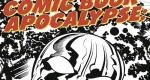 September 15, 2015 - Famed comics artist Jack Kirby, whose work launched The Avengers, X-Men, Captain America, and the Marvel Universe, is the focus of an exhibition at the California State University, Northridge Art Galleries.