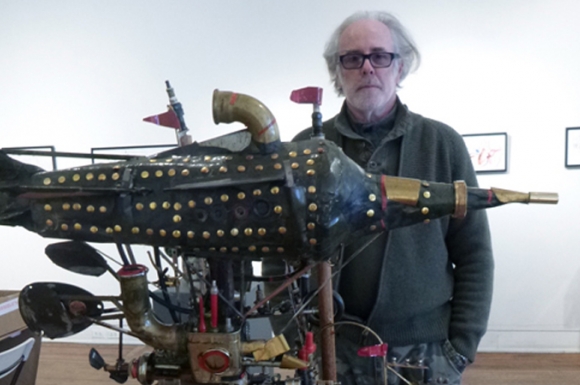 Biography
Chris Spollen's artistic journey began in grade school, where his non-stop drawing of rocket ships and space men was called "day-dreaming" by the nuns. He went on to attend the High School of Art and Design and then Parsons School of Design, both in New York City. As a student at Parsons in the 1970's, Chris credits his teacher, the late Murray Tinkelman —an illustrator and well-respected educator— as being a primary inspiration and mentor. Chris also names Naiad and Walter Einsel, and Gene Hoffman as other early influences. Chris explained, "Going way back I can clearly remember viewing the dimensional illustrations exhibitions at the Society of Illustrators in New York City. I was in awe. Looking at these free-standing pieces of three-dimensional art, I wondered how they were made and what sort of hand work, tools and materials had gone into creating them."
Over the past forty years, Spollen has developed into an award-winning illustrator, his art has evolved from work with traditional materials on paper, to printmaking, to his current love for creating evocative digital mixed media projects that reflect his love for the sea, flying machines, robots, "steam punk" culture and the tin toys of an earlier era. His client list is a broad spectrum of nationally known publications such as Boy's Life, McGraw Hill, and Penthouse. He is regularly featured in illustration industry annuals such as Spectrum: The Best in Contemporary Fantastic Art, Society of Illustration Annuals, and self-published collections such as Aprodisia One, Two.
Spollen is is also an adjunct Associate Professor at the Fashion Institute of Technology in New York City where he urges students to work with their hands and their hearts as well as with their computers. He says, "(I) feel privileged to help to stimulate and motivate students. It is a pure joy to be working with the unbridled, passionate young creatives of the next generation. What a wonderful and magical time it is to be making art."
The artist lives with his wife and son on Staten Island, at the entrance to New York harbor. He takes slow, quiet walks on the beach, which often lead to the discovery of materials for his work—treasures from the sea—which might take their places among the many other objects that will be repurposed for use in his imaginative three-dimensional creations.
Illustrations by Chris Spollen
Additional Resources
Bibliography
Spollen, Chris and Avi Gvili. The Art of Recycling: Reinventing and Transforming Found and Discarded Materials into Art. New York: Boulevard Books, August 25, 2015.