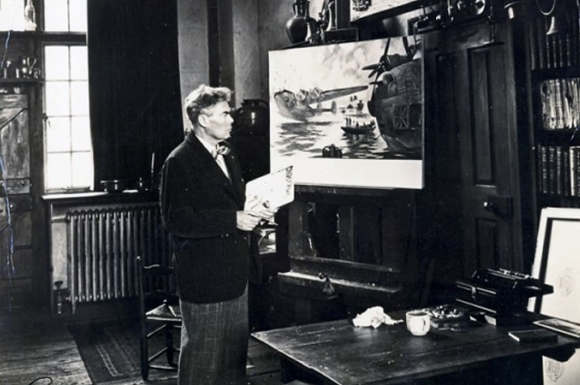 Biography
Thornton Oakley (1881-1953) was born in March of 1881 in Pittsburgh, Pennsylvania. After graduating with a bachelor's degree and then a master's degree in architecture from the University of Pennsylvania in 1901 and 1902, he recalibrated his career to accommodate his interest in illustration and pursued training with Brandywine School founder, Howard Pyle.
The young artist recounted his first day under Pyle's tutelage, saying, "My attempts were terrifying to behold, and when H.P. [Howard Pyle] came to me to criticize my work he paused for a long, long time before speaking, and I know that he must have been appalled."[1]
Establishing his own school allowed Pyle the freedom to train future illustrators in less traditional ways, and to accommodate the newest publishing technologies without the fuss over adherence to traditional means. Named for its location along the Brandywine, Pyle's training advocated for the inspiration of one's natural surroundings to create an authentic, detailed outcome. In a public address Oakley reminisced, "We never heard one word from our beloved teacher concerning tools and methods. His utterances were only of the spirit, thought, philosophy, ideals, vision, purpose."[2]
Oakley went on to become both a professional illustrator and writer who contributed to many magazines. Shortly after marrying his wife, Amy Ewing (1882-1963) in 1910, the two began to collaborate, publishing travel books that she wrote and he illustrated.
The artist's career led him to teach at many prestigious art departments across the country. Starting as the head of the illustration department at the Philadelphia Museum's School of Industrial Art (now the Philadelphia College of Art) from 1914 to 1919, and then again from 1921 until 1936. Oakley also taught briefly at the University of Pennsylvania, the Art Institute of Chicago, the Metropolitan Museum of Art, and the Curtis Institute.[3]
Oakley worked in graphite, pen and ink, and oil paint. His most accomplished works are paintings and drawings of city scenes that provide an emphasis on the industrial, massive size and strength of structures, and materials. True to Brandywine form, his work replicates the monumentality impressed as if standing among the real thing. Departing from the reality of the harsh conditions in cities like New York and Philadelphia, the artist yields something heroic in every sketch and painting. Frequently given vertical emphasis to overwhelm the viewer with the imposing size of the structures and machinery, Oakley often includes a single person in the scene to show their relationship to the imposing grand machinery, towering buildings, or industrious city.
Of infrastructure's relationship to human figures in his work, the artist stated, "It is man, the workman, the tiny human being upon the street, who has conceived and wrought the giant frames of steel, the furnaces, the towering buildings. It is through his eyes that I have seen..."[4]
Painting scenes in such a way led Oakley to receive commissions from many industrial companies for advertisements. He was hired by the Pennsylvania Railroad, Philadelphia Electric Company, Sun Oil Company, and the Franklin Institute, among numerous others.[5]
Just as many artists found their talents put to use during wartime, so too did Oakley, who became involved in the efforts for both World War I and World War II. During the First World War he created lithographs that documented the labor contributions he witnessed at Hog Island in Philadelphia, which were distributed to promote civilian involvement. During WWII, he painted forty-eight pictures to the theme of "American Industries Geared for War." National Geographic published this collection as a series in 1942, 1943, and 1945.
National Geographic was not the only magazine for which Oakley illustrated. In fact, he had a longstanding relationship with many magazines, some of which included Scribner's, Harper's Monthly, Appleton's, Ladies' Home Journal, National Geographic, Collier's, Century, and Scientific American. These works are notably different from his industrious scenes and often were commissioned to illustrate a historical or narrative scene that would have accompanied a short story. Because he was a writer and an artist, in some instances Oakley both wrote and illustrated magazine content. No matter the instance, his work was consistently executed with a clarity that breathed life into every image.
In his leisure time, Thornton Oakley was a member of the Philadelphia Water Color Club, Alliance Francaise, and Contemporary Club. There are modest collections of his work in the Delaware Art Museum and the National Museum of American Illustration. His papers and correspondence can be found at the Archives of American Art and the University of Delaware Library.
Entry written by Bailey Pfohl, 2016 Walt Reed Distinguished Scholar Intern
Footnotes:
[1] Henry C. Pitz, The Brandywine Tradition (Boston, MA: Houghton Mifflin, 1969), 119.
[2] Thornton Oakley, Howard Pyle, His Art and Personality; An Address Given on November 8, 1951 at the Free Library of Philadelphia (Philadelphia, PA: Free Library, 1951).
[3] Thornton Oakley. "Thornton Oakley Diaries: 1908, 1919-1953." University of Delaware Special Collections. 2016. http://www.lib.udel.edu/ud/spec/findaids/oakley.htm
[4] "Thornton Oakley's Pittsburgh." Senator John Heinz History Center. 2016. http://www.heinzhistorycenter.org/exhibits/thornton-oakleys-pittsburgh
[5] "Thornton Oakley collection of Howard Pyle and his students." Free Library of Philadelphia. 2016. https://libwww.freelibrary.org/collections/finding-aids/Pyle
Headshot retrieved from: Marylynne Pitz, "Drawings by Thornton Oakley show Pittsburgh's grit 1913," The Pittsburgh Post Gazette, published January 14, 2015.
Illustrations by Thornton Oakley
Additional Resources
Bibliography
Oakley, Amy Ewing and Thornton Oakley. The Heart of Provence. New York: D. Appleton-Century, 1936.
Oakley, Amy Ewing and Thornton Oakley. Hill-towns of the Pyrenees. London: J. Long, 1924.
Philadelphia Art Alliance, Illustrations, Watercolors, Drawings, and Lithographs by Thornton Oakley. Philadelphia, PA: Philadelphia Art Alliance, 1919.
Reed, Walt. The Illustrator in America, 1860-2000. New York: Society of Illustrators, 2001.