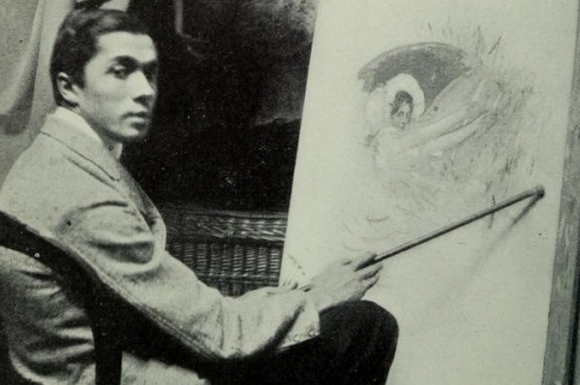 Biography
Although Frank Xavier Leyendecker (1876-1924) was the younger brother of famed illustrator J.C. Leyendecker, he was no less talented and creative. F.X. Leyendecker painted several cover for Collier's magazine between 1902 and 1905, making him better known than his brother for a short period of time. During their early careers, the two shared a home and studio, and a lively, competitive spirit with regard to their work.
Born Franz Xavier Leyendecker in Montabaur, Germany, Leyendecker emigrated to the U.S. at six years old with his brother, Joseph Christian, and his sister, Augusta. He studied at the Chicago Art Institute and the Académie Julian in Paris under Benjamin Constant. In addition to producing numerous covers for Collier's, Leyendecker also illustrated for Life, Vanity Fair, Vogue, and The Saturday Evening Post, among others.
In his 1960 autobiography, My Adventures as an Illustrator, Norman Rockwell recounts a story about a dinner that he and his wife Irene O'Connor hosted many years before for neighbors J.C. and F.X. Leyendecker in New Rochelle, New York. "They were quite short and walked in step with real military precision," Rockwell noted. "They wore white flannels, double-breasted blue blazers with shiny brass buttons, and stiff straw hats." In an uncomfortable twist of fate, the turkey that had been prepared crashed to the floor and rolled under the dining room table shortly after their arrival. The incident broke the ice and did not dampen their spirits. "When that turkey bounced under the table we all of a sudden became friends. We remained friends for over twenty-five years."
F.X. Leyendecker died of a morphine overdose at age 48.
Illustrations by Frank Xavier Leyendecker
Additional Resources
Bibliography
Kipling, Rudyard and Frank X. Leyendecker. With the Night Mail: A Story of 2000 A.D. New York: Doubleday, Page and Company, 1909.
Miller, Elizabeth and Frank X. Leyendecker. The City of Delight: A Love Drama of the Siege and Fall of Jerusalem. Indianapolis, IN: The Bobbs-Merrill Company, 1908.
Poltarnees, Welleran. Covering Christmas: Vintage American Magazine Covers. Seattle, WA: Darling & Co., 2004.
Reed, Walt. The Illustrator in America, 1860-2000. New York: Society of Illustrators, 2001.