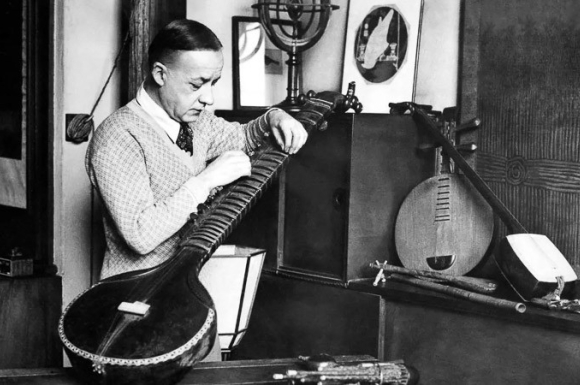 Biography
Edmund Dulac (1882-1953) was a French-born, naturalized British illustrator, and a prominent artist of the "Golden Age of Illustration" (1880s – 1920s). Although best known for his illustrations of fantasy and fiction elements from classic stories, Dulac also produced newspaper caricatures, portraits, theater costume and set designs, bookplates, chocolate box graphics, medals, and postage stamps.
Born in Toulouse, France, Dulac started studying law at the University of Toulouse, but found his passion in art, winning prizes at the Ecole des Beaux Arts in Paris. At the age of 22, he moved to London and was commissioned to illustrate Jane Eyre and nine other books written by the Brontë sisters—a group of some 60 illustrations. Around this time, a new technology of color separation was making it more economical to print color book plates, resulting in a new genre of illustrated gift books where color plates were placed between pages as "gifts" rather than being bound into the spine. Along with contemporary artist Arthur Rackham, Dulac became a dominant figure in this new genre and created enchanting illustration styles that still charm readers today.[1]
After the Brontë novels, Dulac created memorable illustrations for classics like Stories from The Arabian Nights (1907) and The Rubaiyat of Omar Khayyam (1909), among others. He also illustrated fairy tales like The Sleeping Beauty and Other Fairy Tales (1910) and Stories from Hans Christian Andersen (1911). While in London, Dulac became a regular contributor to The Pall Mall Magazine and joined the London Sketch Club, which introduced him to the foremost book and magazine illustrators of the day and through which he established relationships with galleries which promoted his career.[2]
During World War I, Dulac contributed to relief books, including his own Edmund Dulac's Picture-Book for the French Red Cross. After the war, deluxe edition illustrated books became a rarity and Dulac expanded into other areas. He produced illustrations for newspapers and magazines, theater set designs, bookplates, and various graphics. He continued to produce books for the rest of his life, although these were less frequent and less lavish than those of the Golden Age.[3] As Dulac continued illustrating, the influence of Orientalism became more pronounced in his works. These Orientalist works would infuse Dulac's palette with brighter coloration, and his style won high praise for its exquisite use of detail and color.[4]
Dulac designed postage stamps for Great Britain, including stamps commemorating the Coronation of King George VI and those issued to commemorate the 1948 Summer Olympics and the Festival of Britain. He was one of the designers of the Wilding series of stamps which were the first definitive stamps of the reign of Queen Elizabeth II. He also designed banknotes for Free France during World War II.[5]
In 1912 Dulac became a naturalized citizen of Great Britain. He married twice; once to an American, Alice May de Marini, which ended in divorce; then to Elsa Arnalice Bignardi, from whom he separated in 1924. After his second marriage ended, Dulac lived with British writer Helen Beauclerk until he died of a heart attack at the age of 70 in 1953.
[1] Jack Ziegler, "Edmund Dulac," Lines and Colors (blog), July 23, 2006, http://linesandcolors.com/2006/07/23/edmund-dulac/
[2] Wikipedia's entry on Edmund Dulac. Accessed May 8, 2020. Last edited April 20, 2020. https://en.wikipedia.org/wiki/Edmund_Dulac
[3] Ibid.
[4] Art History website, "The Artist Edmund Dulac." Accessed May 8, 2020. http://www.arthistory.net/edmund-dulac/
[5] Wikipedia's entry on Edmund Dulac. Accessed May 8, 2020. Last edited April 20, 2020. https://en.wikipedia.org/wiki/Edmund_Dulac
This artist's biography was written by Phyllis Geraghty, a writer with professional experience in the public relations, education, health, and non-profit sectors.
Illustrations by Edmund Dulac
Additional Resources
Bibliography
Dulac, Edmund. Edmund Dulac's Fairy Book: Fairy Tales of the World. New York: Gallery Books, 1984.
Laurence, Housman. Stories from the Arabian Nights. Read Books Ltd., 2018.
Menges, Jeff A. An Edmund Dulac Treasury: 116 Color Illustrations. New York: Dover Publications, 2011.
Poe, Edgar Allen and Edmund Dulac. The Bells and Other Poems. London: Hodder and Stoughton, c.1912.
Quiller-Couch, Arthur. Sleeping Beauty and Other Fairy Tales from the Old French. Red Books Ltd., 2013.