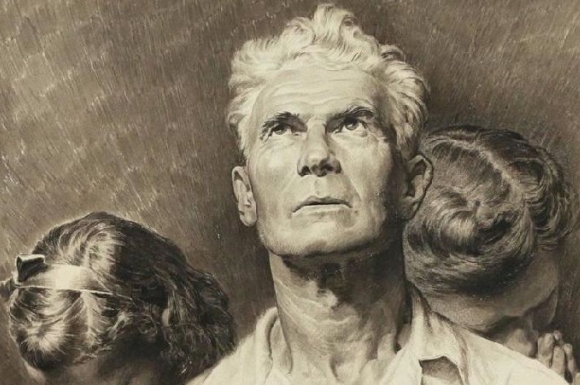 Biography
Edmund Franklin Ward (1892-1990) was an accomplished painter, visual storyteller, and exceptional draughtsman who enjoyed a successful career as an illustrator. His art ranged in style and subject matter from dark tonalist in oils to humorous in wash and watercolor. Born in White Plains, New York, Ward began his career before turning age twenty with The Saturday Evening Post and continued to work for the publication for many years, illustrating the "Alexander Botts" and "Assistant District Attorney Doowinkle" stories.
A contemporary of Norman Rockwell, Ward studied at the Art Students League under teachers Thomas Fogarty, Edward Dufner, and George Bridgman. As young artists, he and Rockwell shared a studio together in the attic of a Manhattan brownstone. He later moved to the Manhattan suburb of New Rochelle, a well-known artist colony which, at the time, was the home of many of the top commercial illustrators of the day, including his friend, Norman Rockwell. Rockwell included experiences he and Ward shared in his autobiography, My Adventures as an Illustrator.
His emotional, richly detailed art earned Ward recognition as a talented visual storyteller. Besides The Saturday Evening Post, publications featuring his illustrations included Youth's Companion, Liberty, Ladies' Home Journal, Redbook, Pictorial Review, McCall's, Country Home, Country Gentleman, Woman's Home Companion, and American Collier's. Ward spent his illustration career in White Plains where he was commissioned to paint a mural for the Federal Building. Among his professional affiliations were the Salmagundi Club, the Guild of Freelance Artists, and the Society of Illustrators.
Profile image: Edmund F. Ward, Fear of God's Wrath (detail), ca.1930
This artist's biography was written by Phyllis Geraghty, a writer with professional experience in the public relations, education, health, and non-profit sectors.
Illustrations by Edmund F. Ward
Additional Resources
Bibliography
Pitz, Henry C. 200 Years of American Illustration. New York: Random House, 1977.
Reed, Walt. The Illustrator in America, 1860-2000. New York: Society of Illustrators, 2001.
Rockwell, Norman and Thomas Rockwell. Norman Rockwell: My Adventures as an Illustrator. Garden City, NY: Doubleday, 1960.
Zimmer, Daniel. The Golden Age: Masterworks from the Golden Age of Illustration. St. Louis, MO: The Illustrated Press, 2015.