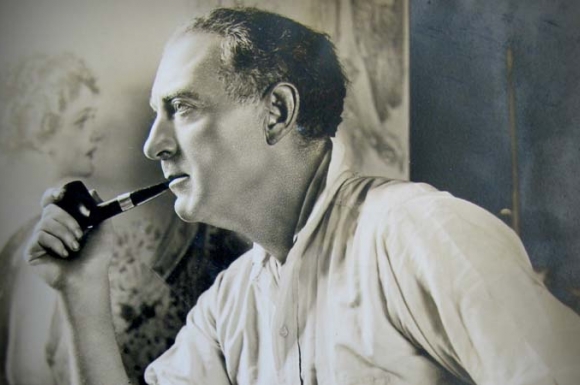 Biography
Howard Chandler Christy (1872-1952) is remembered for his contributions to the field of illustration in his documentarian role during the Spanish-American War, his creation of the 'Christy Girl,' and most notably today, for his patriotic poster designs for World War I.
As an aspiring artist, Christy received formal training in art in New York City at the Art Students League and the National Academy of Design—two schools responsible for turning out some of the most prolific and celebrated illustrators of the century. He studied under the renowned impressionist artist, William Merritt Chase (1849-1916) at The Art Students League.
With the abrupt onset of the Spanish-American War in 1898, an impassioned Christy offered his services and traveled with United States troops to Cuba. He used his draftsman skills to document the events of battle with pen and ink illustrations that were published to accompany articles about the war's progress. Scribner's, Harper's, Century, and Leslie's Weekly were the biggest names in the magazine industry, and all were vying for his drawings. With mass circulation, these works augmented Christy's modest reputation into one that became highly regarded. By the time he returned to the United States, Christy was highly sought after by magazine syndicates.
Christy began working regularly for Scribner's, and when his painting of The Soldier's Dream was published, his famous 'Christy Girl' was born. The 'Christy Girl,' like Charles Dana Gibson's 'Gibson Girl,' evolved from a single character, into a type—one who was beloved for her embodiment of the ideal American woman for her elegant confidence, athleticism, and beauty.[1] The success of his 'Christy Girl' brought the artist into the niche of contemporaneously recognized "women's themes," where he would remain for quite some time. In fact, Christy was so highly regarded as a trendsetter in fashion and decorum that he was chosen to serve as the singular judge in the inaugural year of the Miss America Pageant in 1921, and designed the original trophy.[2]
In 1915, another war loomed and once again Christy offered his talents to support the war effort, this time designing government posters for the Red Cross and civilian involvement.[3] His posters, Gee, I wish I were a Man! and I Want You for the Navy became iconic images that are heralded to this day.
Christy transitioned into becoming a portrait artist after World War I. Already holding a significant reputation in the field, he was able to paint many celebrities and political figures, including Presidents Franklin Delano Roosevelt, Herbert Hoover, James K. Polk, Martin Van Buren, James A. Garfield, and Calvin Coolidge and his wife, Grace, the Crown Prince Umberto of Italy, Amelia Earhart, General Douglas MacArthur, Charles Evans Hughes, Lawrence Tibbett, Mrs. William Randolph Hearst, and even Benito Mussolini.[4]
The 1930s marked yet another transition in Christy's career, when in the late 1920s, his interests shifted to mural painting. A neo-Gothic-style building known as The Hotel des Artistes in New York City houses Christy's earliest mural success. Despite its name, the building was never a hotel, but rather a complex of 115 apartments, one of which Christy used for his studio. In the late 1920s he began designing a mural series for the café entitled, Fantasy Scenes with Naked Beauties. It is comprised of nine oil paintings mounted on canvas, with images of allegorical nymphs, foliage, and wildlife animals. The project was finally completed in 1935. Another famous mural, The Signing of the Constitution, was completed in the 1940s for the rotunda of the Capitol building in Washington, DC.
Like many successful artists, Christy also taught art classes. He was hired for brief periods by Cooper Union, the Chase School, New York School of Art, and The Art Students League.
In recognition of his contributions to the field, Howard Chandler Christy was a member of the Society of Illustrators beginning in 1915, and inducted into their Hall of Fame in 1980. His papers can be found at the Lafayette College Special Collections & College Archives.
Entry written by Bailey Pfohl, 2016 Walt Reed Distinguished Scholar Intern
Footnotes:
[1] "Howard Chandler Christy: 1873–1952." National Museum of American Illustration. 2016. https://americanillustration.org/project/howard-chandler-christy/
[2] Ibid.
[3] Ibid.
[4] Ibid. and Walt Reed, The Illustrator in America: 1860-2000 (New York: Society of Illustrators, 2001.), 139.
Illustrations by Howard Chandler Christy
Additional Resources
Bibliography
Reed, Walt. The Illustrator in America, 1860-2000. New York: Society of Illustrators, 2001.
Copley, Helen F. The Christy Quest. Tucson, AZ: Patrice Press, 1999.
Schneider, Norris Franz. Howard Chandler Christy. Zanesville, OH: Schneider, 1975.