Back in the 1800s, the image of Santa Claus was not portrayed as the round, jolly, bearded man that we know today. Throughout the latter half of the 19th century, Santa morphed through a variety of different looks. He was initially depicted as a thin, elf-like man dressed in green, who was focused on protecting children and sailors. At other times, he appeared skinny and gaunt, with a scraggly beard; while he may have worn a red coat, he sometimes wore a different colored hat, trimmed in black.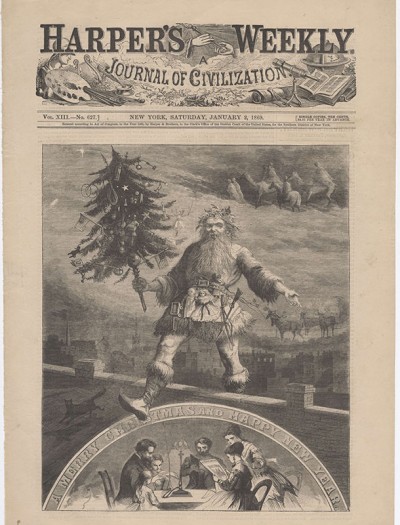 Of course, Norman Rockwell played a large role in establishing Santa's look. The cover of the December 1913 issue of Boys' Life, titled "Santa in Snow with Scouts," was painted by Rockwell at the age of nineteen when he served as Art Director of the magazine. While Rockwell is well-known for depicting Santa Claus numerous times throughout his career, this was his very first Santa Claus cover. In it, Santa has an accident, but is rescued by two Boy Scouts who happened to be on the scene.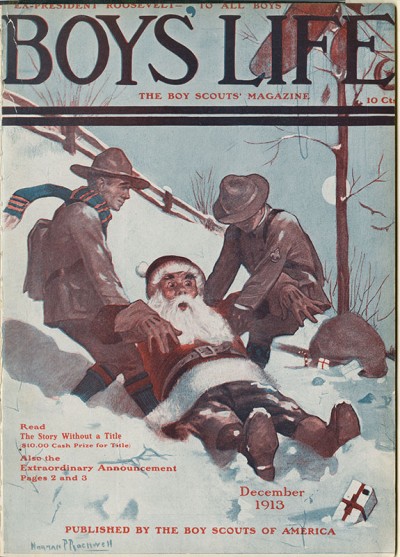 By the 1920s, a more standard image of Santa began to emerge, portrayed by many popular artists of the period, such as N.C. Wyeth, J.C. Leyendecker, and Rose O'Neill. During this time, Santa Claus also began to make more frequent appearances in illustrated advertisements, becoming a salesman for countless products including soap, chocolates, coffee, socks, and even cigarettes.
One of the most well-known Santa product endorsements arose in 1931 when Coca-Cola recruited illustrator Haddon Sundblom to paint a version of Santa for their Christmas advertisements. Sunblom took his inspiration from Clement Clark Moore's poem, "A Visit from St. Nicholas" (better known as "'Twas the Night before Christmas"), and decided to make Santa as genial as possible, wearing a festive red and white suit, smiling happily with rosy cheeks. As luck would have it, Sundblom had a neighbor, a retired salesman named Lou Prentiss, who looked just the part, and became the model for the first painting. Sundblom continued his Coca-Cola Santa ads for the next thirty-five years, which further popularized this version of Santa as the image that we most associate with Christmas today.