Producing Album Cover Art for Clients in the Music Business
(The first of a two-part article)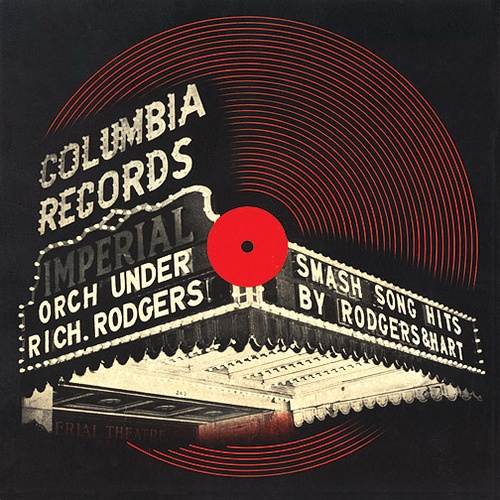 Album cover illustration by Alex Steinweiss for Smash Song Hits by Rodgers & Hart (1940)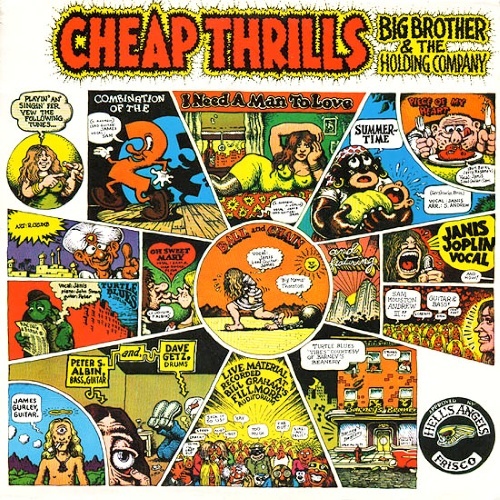 Album cover illustration by Robert Crumb for Cheap Thrills by Big Brother & The Holding Company (1968)
In addition to the musical and business aspirations that have inspired individuals and record labels to produce packaged music products for sale to fans worldwide, the album cover art projects associated with these records have benefited over the years from the talents of the people who have worked on them, the tools they had available to create just the right cover image, and the dynamics of what constituted "Popular Culture" at the time they were created. Throughout the years, a project team could choose to either follow the "state of the art" at the times these projects were undertaken or, for a variety of reasons, choose to try something new and exciting with the hopes that their clients, the censors, and (most importantly) the fans would support their work.
Some artists working in certain genres would often follow accepted templates of album packaging style (e.g., a picture of band, the title, and/or a subtitle or list of hit music included), while others would look to test the application of new technologies (e.g., fish-eye lenses, die-cutting, computer-aided design and drawing, etc.) to produce something different. There are also many examples of creatives/producers who excelled in a specialty within various sub-categories of art and music, with many of these specialists gaining fame within those genres as a result of their unique efforts. These areas of specialization include collage art and photo portraiture, in addition to computer-generated art, fantasy/dark art, alt/indie art, hand-crafted/sculpted imagery, and, more recently, limited-edition and box set/compilation packaging.
The scope of the visual artist's role has changed dramatically over the years as the music industry's methods of producing and delivering retail products has morphed from delivering analog music on 12" vinyl discs packaged inside cardboard sleeves, or cassettes and 8-track tapes, to digital music delivered on shiny metal discs and, ultimately, via the Internet (and, to a degree, back again to vinyl!). Therefore, these individuals have had to update their skills in order to participate in the huge variety of related production projects that ultimately produce what's needed to help their clients deliver a myriad of products (records, merchandise, stage shows, fan sites, etc.) that are now needed to earn a living as a working musician. Many established artists, designers, illustrators, and photographers have devoted the time and resources to stay current with the latest advances in technology and production techniques, while others have "stayed pure" to their original skill sets, hoping that either their clients will still want "old style" values applied to their projects or that there will be others who can assist them in adapting their art for use in new ways. And, of course, as older talent retires, there's always new talent who will bring new skills, experiences, and an eye toward the future demands of today's music industry clientele, with many of these people able to take on several roles traditionally found working for record labels.
Roles for Visual Artists working in the Music Business – an Overview
Typically, in the "traditional" recorded music business, a label's in-house design department has been run by a Creative Director or, if a company has multiple labels underneath a banner, a Product Manager. Even larger labels might divide a manager's responsibilities to focus them on the needs of certain musical acts or genres of artists. These executives may or may not have design backgrounds.
As I noted, there are cases where creative managers are assigned to develop the visuals for specific acts on a label's roster. This might be due to their particular talents or, in the case of "big-name" acts, they might request the services of a specific design team lead. Big acts usually have much more input regarding who works on their projects, but most choose to rely on the labels to assemble the appropriate team for their projects. In cases where acts have decided to play active roles in the designs of their products, a delicate balance needs to be maintained between the design professionals on the team and the musicians that are hands-on or whose opinions—regardless of their knowledge of what it takes to create these products—can side-track or completely derail a project. For example, Mick Jagger and Keith Richards of the Rolling Stones have, by contract, absolute control over their public images and, as such, may act as Art Directors on their projects. As life is full of compromises, members of a design team often must choose to trade-off some control over how a project proceeds (and what a finished product looks like) in order to be able to list their participation in projects for legendary acts on their resumes.
Let it be said that, depending on just how well the delicate balancing act between the managers, designers, musicians, record labels, retailers, marketers, technologists, and the press was managed on each album cover art project, the resulting artwork will most almost certainly reflect how these relationships expanded or inhibited the designs that were proposed and ultimately produced.
Before shining some light on the role of the illustrator on album cover projects, I thought it would be important to first provide you with an overview of each senior job description so that you may better understand who sets the illustrator down a particular path when called to work on a particular project. In Part 2 of this article, using quotes I've gathered that expressed the opinions of the people we questioned about the topics, I will also address:
a) whether artists/illustrators working in the music business felt that they were given the time, resources and feedback needed in order to produce memorable album images, and
b) whether emerging technologies served to open doors to new possibilities or, instead, ultimately stifled creativity via "sameness."
Finally, for historical purposes, I will highlight examples of trend-setters and influencers in this category (and their trend-setting works) and illustrate how these professionals helped move the industry from bare paper sleeves towards the eye-catching, purchase-motivating packaging we've come to appreciate over the past 60+ years.
Who does what on an album cover project (and when do illustrators join in on the fun)?
Whether working on album art projects as an employee of a record label or contracted by artists and/or their labels as freelancers, the main job categories may be either managerial (people on the team who may or may not be "hands-on" but who, ultimately, are responsible for some or all aspects of the finished product) or creative/design/production personnel:
Managerial Roles (in descending order of authority) –
"V.P. of Design" (and/or Marketing) or "Creative Director" (or "CD"):
While researching these job descriptions for a comprehensive article on the topic for my book, I read a number of interviews with people in those roles and, not surprisingly, most of them have slightly-different takes on "who is supposed to do what." Interestingly, though, many of those interviewed used musical or sporting metaphors, such as "head coach," "conductor," "captain of the ship," "composer," etc. but the common thread was clear, as stated in marketing speak, that they were ultimately "the keepers of the brand." This is why, in most cases, Creative Directors are on a record company's staff. They understand that it is their role, and the responsibility of their team, to connect with fans and consumers; whether they are hands-on (and responsible themselves for art, copy, etc.) or simply the people that review the finished products, the success or failure of their product packages falls squarely in their laps.
The Creative Director usually puts together a creative brief (however brief it is) and then picks the team that will work on a project or, at least, selects the Art Director (often an in-house regular employee but, as the use of design firms and freelancers continues to grow for a variety of budgetary and flexible-staffing reasons, quite possibly a freelance AD. Imagine what the creative briefs and job assignments must have been for some of your best-loved album covers! The Creative Director will also serve as the principal client contact and will liaise with the client's representatives during the project, getting their feedback along the way and relaying that information to the team. As the project goes from brief to something real, the CD will aid the project team by keeping them "on message," with the good ones pushing them to try something new and exciting (as long as it is meaningful and on-budget).
Since CDs are generally in Management rather than in Production, you won't typically find them listed on an album's credits unless they've also served a hands-on role in the production project.
"Design Director," "Art Director," or "Creative Services Director":
After sitting down with the Creative Director and coming to terms with the details of the project's creative brief, it's now up to the Art Director to take the agreed-upon concepts and then execute the plan using whatever resources he/she is given. As a first step, the AD gathers the team and brainstorms with them about all aspects of the production, remembering to make certain that, however the team proposes to package the product, the CD and the client will be content with whatever designs that are presented. Once the creative direction of the project has been presented and approved by the client, it is now up to the AD to "sweat the small stuff," keeping watch on the progress of each of the team's producers (e.g., the writers, illustrators and painters, layout artists, logo designers/typographers, photographers, graphic artists, animators, technologists, engineers, etc.) during the pre-press portion of the project and then on the printer/web shop once the elements are handed over to them for their part of the production.
In our listings on the ACHOF site, it is the Art Directors that usually have the longest list of credits and, when industry awards are handed out, it is usually the Art Director and/or the Lead Designer that take home the trophies, giving "thanks" of course to their Creative Director, their clients, and their team for their inspiration and support.
Production Personnel:
Now that we've looked briefly at the people who set a project's course, let's take a quick look at the descriptions of those specialists whose work will combine to produce the final image/package customers will see (and, hopefully, purchase). Examples of production personnel include those who actually interface with the client (e.g., the musical act, his/her/their management or, if a freelancer, the record label execs), such as "Senior Art Directors," "Art Directors," or "Senior Designers (or those in more of a support level, working under the senior staffers, such as those with "Assistant," "Deputy," or "Associate" in their titles). Remember that larger organizations will tend to have more layers of management, such as a label with a Creative Director one notch up from an Art Director.
Following those people are the specialists hired to assist in each project—the Illustrators, Photographers, Graphics Editors, Typographers, and the engineers, packaging experts, and others—each bringing different backgrounds and expertise to the table. Using their knowledge of the latest tools, materials, and production techniques (and when the chemistry is good between the design and production teams), wonderful things can happen.
Illustrators (along with painters, logo designers, and typographers) - What do they contribute?
Illustrators are called on to use their art, design, and other creative skills to develop and produce original visual images based on a design brief's specifications (which can, in many cases, simply provide them with basic guidelines and then tell them to "use their imaginations"). Most illustrators specialize in a particular style or medium, such as drawing, painting, digital graphics, etc. and, in certain cases, logo design or typography.
Since many illustrators working in the music industry are independent contractors, they are often approached to license pre-produced images (or modify those images for a particular project) for use in album art projects. An illustrator's portfolio might include drawings, paintings, cartoons, typestyles, and the like that can serve as the basis for a design team's overall approach to an album package, so they can be a valuable source of inspiration when beginning a design project. Depending on the relationship that exists between an illustrator and the Art Director, a work might be done as a "work for hire," where an artist receives a one-time payment for a work they provide or, quite often, the artist can reserve certain rights to an image, allowing them to derive income from it in other ways, such as sales of the image as a fine art print.
As I noted earlier, in the second part of this article, I will be introducing you to some of the better-known artists who have played key roles in the introduction and ongoing development of album cover art, and will share some of the insights into the challenges they've faced in their efforts to produce—under a variety of circumstances—a truly impressive portfolio of work.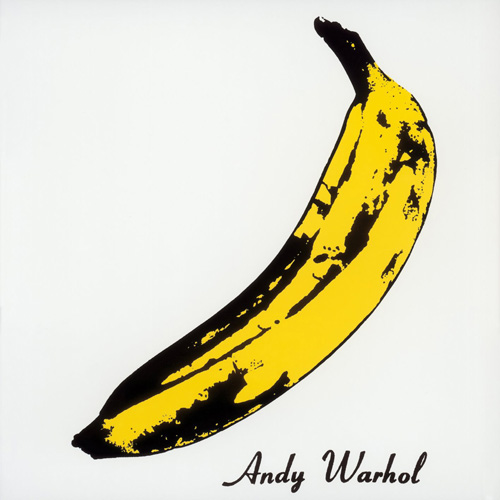 Album Cover illustration by Andy Warhol for The Velvet Underground & Nico by The Velvet Underground & Nico (1967)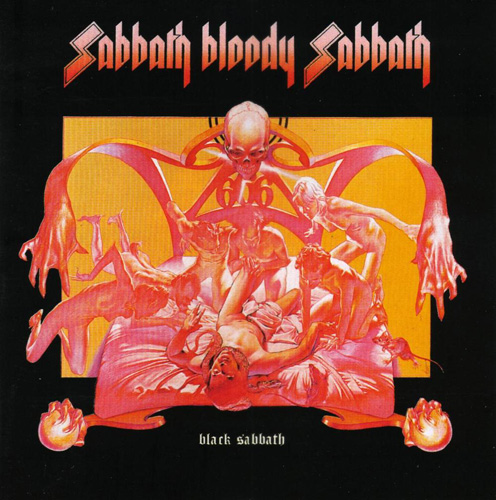 Album Cover illustration by Drew Struzan/PE&E for Sabbath Bloody Sabbath by Black Sabbath (1973)