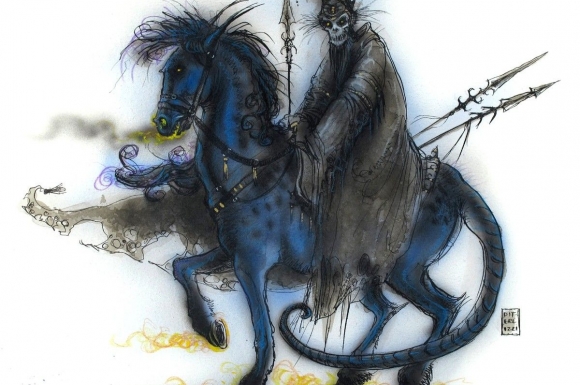 Description
The role-playing game Dungeons & Dragons was first published in 1974 and soon became an underground success. By 1977 it had split into basic and advanced versions. Although Dungeons & Dragons lost popularity in the 1980s and 1990s due to the accessibility of video games, unfounded accusations by some outspoken religious groups, and internal company restructuring, today the game is more popular than ever, among both the players who grew up with it and a new generation of fans. As Americans have become more reliant on new technology and social media, many are finding pleasure in face-to-face game playing. Friends and strangers silence their phones and set established playing times in order to meet in person to explore fantasy worlds in quests and adventures created within their own groups.
Gary Gygax (1938–2008) and Dave Arneson (1947–2009) created Dungeons & Dragons, basing play on the rules of earlier military-based role-playing games. Instead of a
game involving model soldiers going to war, Gygax and Arneson devised a game of monsters and medieval-type heroes who venture on a quest. The two men formed TSR, Inc. (Tactical Studies Rules), in 1973, and established the basic rules for the game. With the help of a narrator and game organizer referred to as the Dungeon Master, each player creates a character based on preexisting guidelines. Using a combination of mathematics and many-sided dice, which help to determine actions, all the players work as a team in the campaign. The characters may find hidden treasure, dangerous dungeons to explore, or a band of monsters waiting to attack.
Magic: The Gathering, begun in 1993 by the publisher Wizards of the Coast, is a role-playing game of a different sort. Players use cards, each with its own statistics, to cast spells and summon creatures to defeat their opponents. Unlike Dungeons & Dragons participants, Magic players work on opposite sides and rely on chance as well as skill. Naturally, the more cards players have, the better able they are to succeed. On its company website in 2018, Wizards of the Coast announced it had printed more than twenty billion Magic cards between 2008 and 2016. Wizards of the Coast purchased TSR in 1997, bringing Dungeons & Dragons and Magic: The Gathering into the same company.
These and other fantasy-based games, as well as spinoff publications, share similar iconography, style, and artists. The monsters and creatures in Dungeons & Dragons are inspired by ancient mythology and characters and settings from J. R. R. Tolkien's Lord of the Rings books. Elves, dwarves, orcs, and hundreds of other creatures exist in a fantasy realm. One of the oldest gods in the history of humankind, Tiamat of ancient Babylon, has been incorporated into the game as a powerful dragon of the same name. Angels, which have appeared in many religious texts and innumerable fantasy illustrations since they were first written about in ancient Rome, also factor into the play of Dungeons & Dragons and Magic: The Gathering, as powerful forces for good.
Creating many early iconic characters and images for Dungeons & Dragons, David Trampier (1954–2014) was best known for his uniquely styled pen-and-ink drawings inside publications created for the game. One of the most famous of all Dungeons & Dragons images is Trampier's 1978 painting of Moloch, printed on the cover of the Advanced Dungeons & Dragons Players Handbook.
Larry Elmore (b.1948) began his artistic career drawing for National Lampoon and Heavy Metal. In 1981, he joined the staff of TSR as one of the company's first professional illustrators. Elmore left the company in 1987 to pursue other projects, which included coauthoring the fantasy novel Runes of Autumn in 1996, and performing freelance work for various entities, including Magic: The Gathering, DC Comics, and Dragon Magazine. Elmore recently published two compendiums of his work, The Complete Elmore and The Complete Elmore, Volume II: Black & White.
Among Dungeons & Dragons' most prolific artists, Jeff Easley (b.1954) created cover art for horror magazines Creepy and Eerie before joining his friend Larry Elmore at TSR in 1982. Easley's Big Red Dragon painting was featured on the cover of TSR's 1991 release, The New Easy-to-Master Dungeons & Dragons Game. After the purchase of TSR by Wizards of the Coast, Easley created additional artwork for Magic: The Gathering, until leaving the company in 2003 to pursue freelance work.
Numerous other artists have created cover art and interior illustrations for role-playing games and related publications and other materials. Some of the more famous contemporary illustrators include Karla Ortiz, Tyler Jacobson, Bastien Lecouffe Deharme, Piotr Jabłoński, Brom, Tony DiTerlizzi, and Scott Fischer, to name just a few.
Image Gallery